HIPAA Compliance is about ongoing efforts on predetermined procedures. Following the introduction of the Health Insurance Portability and Accountability Act (HIPAA), organizations that deal with Protected Health Information (PHI) have been placed under increased scrutiny, which has increased since the addition of the Health Information Technology for Economic and Clinical Health Act (HITECH) in 2009. Organizations found in violation of HIPAA could be subject to penalties, which can range from $100 to $50,000 per infringement, and up to an annual maximum of $1.5 million per organization. That is why covered entities and business associates, including other organizations that deal with PHI, are required to have a HIPAA training and awareness program in place for their employees.
For every personnel who comes into contact with Protected Health Information (PHI), HIPAA training and awareness is mandatory, but officials have not made it clear how many times HIPAA training should be offered throughout the year. However, it is recommended that HIPAA training for all employees should be offered "periodically", therefore, it is open to interpretation by each organization. 
HIPAA Training and Awareness
The rationale for HIPAA training and awareness is to make sure that employees are up-to-date and confident with the complex nature of the law and the latest developments. Both the Privacy Rule and the Security Rule have different training requirements. As per the HIPAA Privacy Rule Administrative requirement, all new staff members must receive training within a "reasonable time frame". As per the Security Rule, training is required "periodically", and many people misinterpret "periodically" as annually, which is not the case. Besides, annual refresher training, re-training should be undertaken from time to time so that employees are always up-to-date. This is to ensure that the risk of repeated occurrences is kept to a minimum. HIPAA training to promote awareness amongst employees should be conducted whenever there is a change in the regulations, changes in working practices, or technology.
Effective ways of HIPAA training and awareness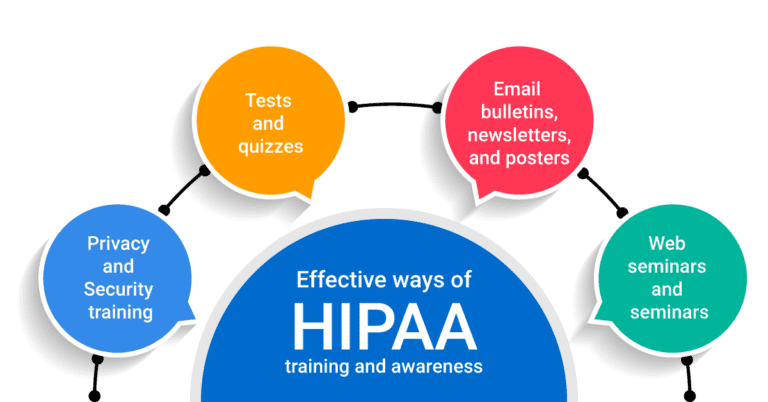 Privacy and Security training: Formal yearly training on HIPAA is a good practice, but an organization needs to promote HIPAA awareness on the security aspect more often. It is recommended to provide security awareness training at least twice a year and issue cybersecurity updates every month. If an individual is found to have broken the HIPAA rules and the violation is not severe enough to warrant termination, the individual must be re-trained on HIPAA requirements.
Tests and quizzes: Like any other educational course, taking tests and quizzes regularly can evaluate the effectiveness of an organization's training program. Including standard test scores will also encourage employees to educate themselves to achieve a better result. This way, your employees will always be aware and up-to-date on HIPAA regulations and it will make your overall HIPAA training and awareness program more interesting and effective.
Email bulletins, newsletters, and posters: To ensure HIPAA compliance, an organization must exercise continuous and comprehensive efforts. Putting up relevant and interesting visual posters such as "Protecting privacy is everyone's responsibility" around the facility is a great way to promote HIPAA awareness. Utilizing email newsletters is another effective way to promote awareness. Whenever there is a change in the regulation, employees should be notified through an email bulletin or newsletter.  By using a HIPAA compliance software package such as HIPAAReady, this process can be easily streamlined and will ensure that everyone is up-to-date with their HIPAA training.
Web seminars and seminars: HIPAA seminars, whether online or offline, take place all year round. There are tons of available web seminar programs online and some are even free. Encourage your employees to attend seminars as a part of their professional development when possible and to participate in web seminars to gain better insights on related topics.
Ease your burden with HIPAAReady
We provide a fully customizable cloud-based HIPAA compliance software to ease the burden and complexities of HIPAA compliance. HIPAAReady offers robust training management procedures, internal audit procedures, secure access management, and much more.
HIPAA training and awareness can be a very arduous process. Your training sessions should not be dull or include irrelevant information. With HIPAAReady, you can easily conduct your HIPAA training and promote awareness all year round while keeping sessions short, concise, and simple. To find out more about HIPAA training and awareness, visit our webpage or leave a comment.