Many field sales agent monitoring solutions include a function that allows customers to provide feedback on their experience with the sales agent. This benefits both the company and sales agent in the following ways.
Provides insight
Opening up a channel of communication between the employer and customer provides insight into the customers levels of satisfaction with the service rendered by the agent. Understanding the feelings of a customer can aid in improving the sales agents capabilities.
Make the right decision
Employee feedback software helps the company make wiser business decisions. Is the sales agent underperforming and if so how can we rectify the issue. Is the sales agent ready for extra responsibilities? These questions can be answered with the help of employee feedback.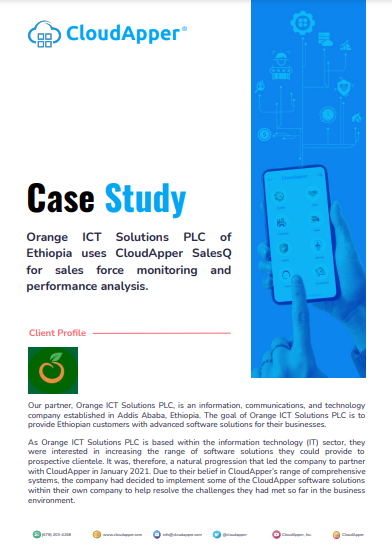 Case Study
Orange ICT Solutions PLC of Ethiopia uses CloudApper SalesQ for sales force monitoring and performance analysis
Download Case Study
Refine service offerings
Customer feedback can be used to refine a company's services and product offerings. Employee feedback helps a company answer the question of whether their service offering solves an employees problem. If the customers needs are not being met by the company's sales agent, adjustments can be made to better solve these needs. Constant improvement and innovation are the pillars of many great companies.
Expresses interest in the customer's experience
Giving customers a channel to provide their feedback often makes them feel they are playing a part in a company's growth. Involving customers creates attachment, this leads to stronger and longer lasting relationships between the companies sales agents and the customers they serve. A satisfied customer is a sales agents best friend as they are also often vocal brand ambassadors.
Maintain customer retention
While customer feedback functions provide many benefits to the sales agent, a company can leverage the functionality and information received from clients to determine the client's level of satisfaction as well as find areas that require improvement.
A sales agent management tool is a must for any client facing company that wants to continually improve their service offerings and their sales agents.