Time and attendance management has traditionally played a significant role in human resources activities. The environment of labor management has changed dramatically from the days of punch clocks and timesheets to the present day of sophisticated computerized time tracking systems. As a human resources veteran, I've had the chance to research many time clock options, learning about their features, advantages, and overall effect on business output. Let's get down to brass tacks today and parse the subtleties of this ongoing debate: Comparison of Electronic and Manual Time Clocks.
Understanding The Difference
If a company wants to get the most out of its labor management practices, it has to have a firm grasp of the distinctions between manual and electronic time clocks. Manual time clocks, which use things like paper timesheets or punch cards, can be inaccurate and time-consuming to use. Electronic time clocks, on the other hand, provide automated solutions through the use of cutting-edge technology like biometric identification, QR/Bar code, or PINs, all of which contribute to reliable and productive time keeping. Businesses may make educated selections to standardize their time and attendance procedures and boost their operational efficacy if they have a thorough understanding of the features and benefits offered by each system.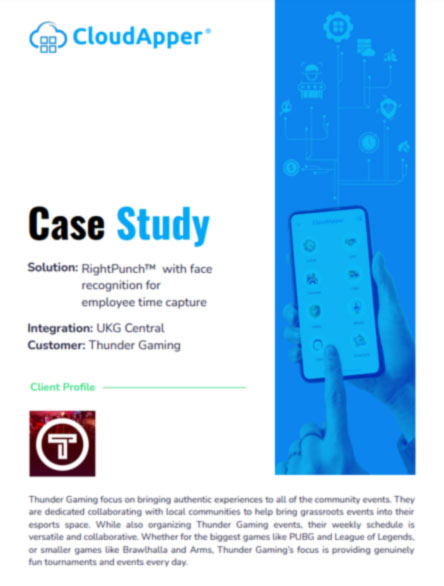 Case Study
CloudApper AI TimeClock With Face Recognition for Employee Time Capture at Thunder Gaming
Download Case Study
Which One is Better?
Adopting New Technologies to Improve Human Resource Management The shift from traditional timekeeping methods to more advanced computerized time tracking systems has been a game-changer for businesses in today's fast-paced economy. With the advent of electronic time clocks like CloudApper AI TimeClock, organizations now have the ability to more precisely and efficiently monitor their workforces by monitoring employee attendance.
A table contrasting manual and electronic time clocks:
| Features | Manual Time Clock | Electronic Time Clock |
| --- | --- | --- |
| Punching Method | Paper timesheets, punch cards | QR/Bar code, PINs, biometric technology |
| Accuracy | Prone to errors, average error rate of 7% | Precise, minimal margin of error |
| Efficiency | Time-consuming, requires manual input | Automated, reduces manual efforts |
| Compliance | Prone to human errors, labor law issues | Helps ensure compliance with labor laws |
| Accessibility | Restricted to physical location | Accessible remotely, multiple devices |
| Data Security | Limited security measures | Advanced encryption and data protection |
| Maintenance | Low cost, but significant manual effort | Higher initial cost, minimal maintenance |
| Integration | Limited integration capabilities | Seamlessly integrates with software solutions |
| Scalability | Limited scalability, manual limitations | Highly scalable, adaptable to organizational growth |
| Cost | Low initial cost, but hidden long-term expenses | Higher initial investment, cost-effective in the long run |
The CloudApper AI TimeClock Advantage: A Game-Changer for HR Professionals
CloudApper AI TimeClock is a popular, highly effective, and easy-to-use time tracking tool that was developed specifically for today's HR departments. This AI-enabled software has a wide variety of functions, including accurate time tracking and the provision of HR services, allowing for unified and comprehensive HR administration. CloudApper AI TimeClock provides its users with exceptional adaptability and accessibility by supporting a broad variety of devices through its Android and iOS applications.
The Value of CloudApper AI TimeClock
Features for HR Decision Makers
CloudApper AI TimeClock's ability to accept punches via a variety of methods, such as facial recognition, QR codes, barcodes, and PIN, makes it a standout among electronic time clock applications. This cutting-edge biometric facial recognition technology puts an end to time theft and buddy punching, creating a remuneration structure that upholds labor rules and protects enterprises from legal liability.
In addition, the CloudApper AI TimeClock acts as an AI assistant around the clock, giving staff members easy access to all the HR information they need while also allowing them to better manage their own time. CloudApper AI TimeClock serves as an HR service delivery iPad/tablet kiosk for employees, greatly reducing the workload of HR staff and freeing them up to focus on more strategic and advanced HR responsibilities.
Seamless Integration for an Enhanced HR Experience
The CloudApper AI TimeClock is compatible with virtually every popular HR & payroll service, including but not limited to: UKG, Oracle HCM, SAP, Gusto, ADP, Paychex, OnPay, SurePayroll, QuickBooks, Zenefits, and many more. This unification streamlines payroll processing and provides HR with a consolidated system from which to manage employees more effectively.
CloudApper AI TimeClock: Transforming HR Operations with Unparalleled Efficiency
Finally, as HR decision-makers traverse the maze of time-tracking systems, CloudApper AI TimeClock stands out as the clear winner for companies in need of a reliable, safe, and straightforward electronic time clock solution. CloudApper AI TimeClock is a vital tool for firms seeking to optimize workforce management practices and enhance the entire employee experience due to its smooth integration capabilities, compliance with labor regulations, and full HR service delivery features.
The need for creative time-tracking solutions is growing as the HR landscape changes. With its state-of-the-art capabilities and easy accessibility, CloudApper AI TimeClock provides a look into the future of workforce management, where productivity and regulation compliance go hand in hand to help businesses reach their full potential. Get rid of your outdated and inefficient manual time clocks and usher in an era of simplified, intelligent, and effective time tracking with CloudApper AI TimeClock.