Effective time management is essential in the fast-paced, ever-changing manufacturing sector to boost productivity, ensure compliance, and promote a positive work environment. The innovative CloudApper AI TimeClock might significantly enhance the administration of labor in industrial organizations. CloudApper AI TimeClock stands out as the ideal time card software option for industrial organizations seeking to enhance their time tracking and HR operations because of its adaptability, seamless integration with leading HCM systems, and user-friendly interface.
Embracing the History of Time Management
Karol Adamecki, a Polish economist and engineer who invented "timetable", introduced time management to the manufacturing industry in the early 19th century. Today, this idea is realized in sophisticated time card software, a vital resource for the management of worker operations in all sectors. These cutting-edge software provide a variety of benefits for industrial businesses, including the simplification of processes, enhanced coordination, and increased productivity.
Why Should the Manufacturing Sector Opt for Time Card Software?
Strong time card software is a need in today's manufacturing firms because of the many ways it improves efficiency and morale.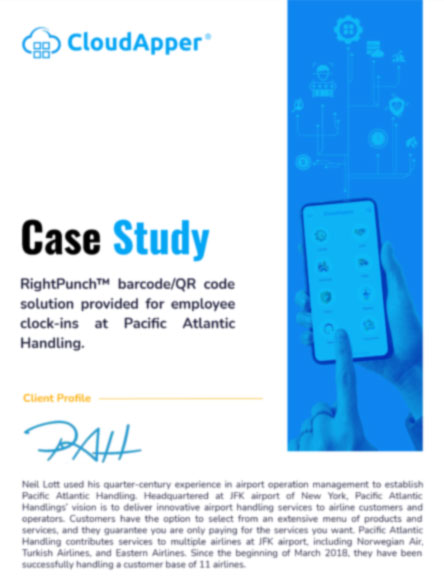 Case Study
CloudApper AI TimeClock Barcode/Qr Code Solution Provided for Employee Clock-Ins at Pacific Atlantic Handling.
Download Case Study
Optimization and Automation of Work Processes: Employees are able to devote more time to more important areas of their jobs because of time card software's ability to automate mundane but necessary chores. The production process as a whole benefits from this optimization, which increases output and efficiency.
Streamlined Coordination of Teams: Time card software helps teams work together more efficiently because of its exact time and workflow management features. It helps managers and supervisors assign work, keep tabs on employees' progress, and finish projects on schedule.
Efficient Resource Management: Time card software aids manufacturing companies in making educated decisions regarding worker deployment and resource allocation by offering insights into resource consumption and allocation. This enables the most efficient use of resources by allocating them precisely when they are needed most.
Enhanced Productivity and Time Theft Prevention: The use of time card software aids in avoiding unfair practices like buddy punching and time theft. This program encourages accountability and helps cultivate a culture of honesty and integrity in the workplace by keeping tabs on employees' time spent on the clock and avoiding fraudulent activities.
Enhanced Record-Keeping and Reporting: Comprehensive time card software offers powerful record-keeping and reporting features, allowing industrial organizations to retain precise records of employee work hours, breaks, and other pertinent data. The company's adherence to labor rules may be defended by the evidence provided by these thorough records, which are used during audits and legal inquiries to demonstrate compliance.
Improved Employee Satisfaction and Retention: Compliance with labor regulations creates a fair and healthy workplace for everyone involved. Employers in the manufacturing sector that use time card software to monitor compliance are sending a strong message to their staff about their willingness to follow legal requirements and safeguard the rights of their employees.
Minimized Legal Risks and Liabilities: Failure to comply with employment regulations can lead to costly penalties, legal action, and a damaged reputation. By keeping detailed records and guaranteeing compliance with all applicable labor requirements, enterprises in the manufacturing sector may reduce their legal risks and liabilities through the use of reliable time card software.
CloudApper AI TimeClock: A Revolutionary Solution for Manufacturing Time Tracking
When it comes to time card softwares, CloudApper AI TimeClock stands out as the gold standard because of how well it caters to the specific needs of the manufacturing industry. As a result of its compatibility with industry-leading human resource management (HRM) software like UKG Pro, Oracle HCM, SAP SuccessFactor, Ceridian Dayforce, Workday, Gusto, ADP, and others, manufacturing companies can easily sync their time tracking data with their preexisting HR systems. The software's self-service capabilities and round-the-clock AI assistant, together with its intuitive design and device compatibility, make it a boon to HR departments and their staff.
CloudApper AI TimeClock provides several advantages for manufacturing companies, such as accurate time recording, improved worker management, and eased compliance with labor regulations. In today's highly competitive industrial environment, organizations who take advantage of this cutting-edge time card software have a far better chance of achieving sustained growth and success.