You definitely have a proven HIPAA compliance program within your organization whether you are a HIPAA-covered entity or a corporate partner with a covered entity. However, measuring the effectiveness of your compliance program can be difficult. And it would not really be possible to determine the progress of your endeavors by tracking with any anonymous reporting tools. 
However, while reporting tools can be an invaluable instrument, the entire program needs to be checked when evaluating HIPAA compliance efficacy. The Department of Health and Human Services' Office of the Inspector General (OIG) has, however, proposed seven elements that are required for the development of an effective program for compliance. They are as follows:
Communication, education, and training on compliance issues

Monitoring, auditing, and internal reporting systems

Discipline for non-compliance

Investigations and remedial measures

Standards, policies, and procedures

Compliance program administration

Screening and evaluation of employees, vendors, and other agents
But how do you know your efforts actually work? Let us examine several ways to measure the success of your compliance program.
Measuring your current compliance program effectiveness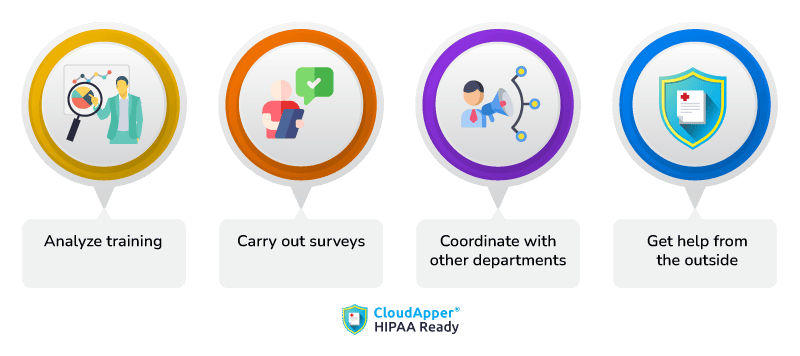 Analyze training
Testing your workforce is one of the easiest ways to assess efficacy. Ideally, an enforcement training course should be already put in place for HIPAA and workers should test their retained knowledge. At the end of each practice session maybe once a month, you could either test your workers. A few months later, you can also see how the knowledge has been retained.
In addition, after each training campaign, analyze the misconduct reporting patterns. See if the events reported incidents have risen or fallen after the completion of the HIPAA training session. These observations will help you to recognize the program's importance.
Carry out surveys
Surveys may assist in obtaining useful insights. Annual surveys will help you provide details on your conformity program. For instance, if you want to assess attitudes and insight into the current culture of your company, you might ask questions about company ethics and policy.
Employee's responses concerning reported misconduct must be recorded compared against historical data. If misconduct is stated to continue to rise, the enforcement program will need some revision.
Coordinate with other departments
It is necessary to collaborate with other departments, such as human resources when assessing the efficacy of your compliance program. In the recruiting process and performance assessment, you can ask the HR staff to ask questions about compliance and ethics.
In addition, you can get reports on the number of days off, robbery incidents, or problems concerning work, to better understand the whole culture and trends of the company.
Get help from the outside
HIPAA itself, as a result of the COVID-19 pandemic, is a very complex law that underlies constant changes, especially more than ever. Federal agencies are actively seeking ways to facilitate the treatment of their patients and secure their medical data through healthcare providers. However, it can be a struggle to keep up with continuous policy and process changes.
You can also use HIPAA Ready, a cloud-based HIPAA compliance software that can allow you to measure your compliance program performance, to keep up with these constant changes. HIPAA Ready enables you to track and issue certificates for your training campaign.
You will also be able to keep valuable records and any information about your compliance efforts. HIPAA Ready also lets you handle strategies, procedures, risk assessments, contracts with business associates, and all other key compliance processes,