How an organization carries out the maintenance of equipment can make or break several crucial components for its business. It affects equipment downtime and longevity, production disruptions, workplace safety incidents, costs, productivity, and several other factors. Seasoned maintenance managers know how vital maintenance management is and have to work on this never-ending process constantly. Unfortunately, while some use modern maintenance management solutions, others are still using obsolete methods like spreadsheets, ancient software solutions, and reactive maintenance. 
Fortunately, a few hacks can improve the maintenance of equipment at facilities, plants, and organizations – let's look at the most useful ones. 
Boosting maintenance of equipment with five hacks
Ditch spreadsheets or obsolete methods
As previously mentioned, several organizations still use ancient methods for equipment maintenance. For example, many organizations use spreadsheets, others use ancient CMMS solutions, and some still use binders and paperwork! It's high time that these organizations ditch these age-old methods and opt for robust and modern CMMS software solutions.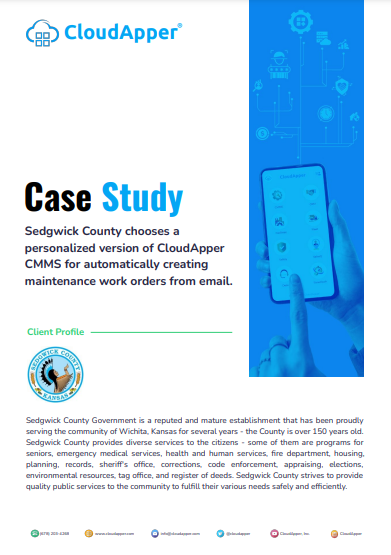 Case Study
Sedgwick County Deployed a Customized Version of CloudApper CMMS for Automatically Creating Maintenance Work Orders
Download Case Study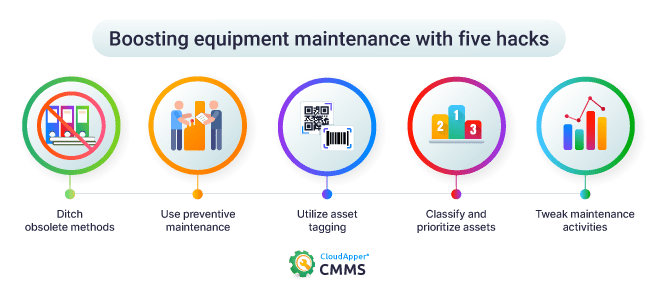 For instance, with CloudApper CMMS, organizations can streamline equipment maintenance, minimize unplanned machine downtime, plan, create, assign, and schedule routine maintenance tasks, track progress, and more. In addition, a modern CMMS solution brings in several other benefits – more on that later. All of this helps reduce response times, improve collaboration, and improve maintenance management.
Opt for preventive maintenance
This point is for those still sticking with reactive maintenance – it's an old approach and not applicable for most modern equipment and machinery. Even with older machinery, reactive maintenance doesn't help much as it only focuses on fixing the broken equipment rather than preventing breakdowns. 
Preventive maintenance, on the other hand, works on preventing the problems before they even arise. It provides regular maintenance to pieces of equipment, inspects them, identifies if any problems exist, and even takes assets offline on a planned basis. As can be understood, preventive maintenance is a huge step forward and helps assets last longer, perform more reliably, and reduce unplanned machine downtime.
Tag assets for easier access to maintenance information
Tagging assets saves a lot of time, energy, and effort, especially when it's done with a robust CMMS solution. Take CloudApper CMMS, for instance – it helps tag assets using barcodes. All the technician needs to do is scan the barcode on the equipment with their smartphone or tablet. CloudApper CMMS identifies the asset and provides all the relevant information such as the work history, asset details, warranty information, manuals, etc. 
Not using a CMMS solution and barcode scanning will lengthen the process significantly, slowing down asset repairs, servicing, and maintenance tasks – leading to inefficiencies. 
Classify and prioritize assets 
It's pretty straightforward – not all of the assets have the same level of priority. While many of them might be crucial for production and facility operations, other pieces of equipment are not as important, and their downtime doesn't affect the organization significantly. 
Ensuring asset management and collecting information on all the assets, identifying which are most crucial, prioritizing them, and assigning technicians can help assign resources in a more meaningful way. Putting too many resources or too much time into non-essential assets that require less frequent maintenance is inefficient, costly, and might bring unwanted results. Instead, a preventive maintenance plan that focuses more on high-priority assets and incorporates the less important ones is a more balanced and practical approach.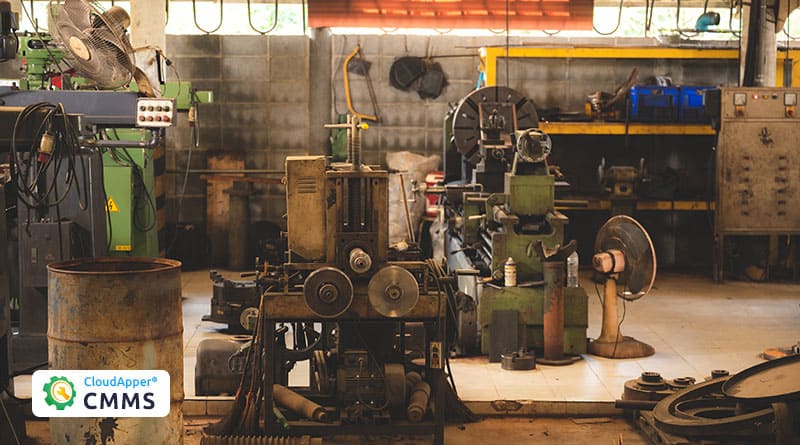 Keep tweaking the maintenance management plan
No maintenance management plan is perfect – that's because even the best ones are constantly changing. As a result, maintenance management isn't a single task or even a set of them – it's a continuous process that must be monitored and tweaked for best results. Moreover, what's the best strategy now might not be the best one six months later. As a result, organizations that want to boost the maintenance of equipment need to update the plan for reliable results such as lower unplanned downtime, lower costs, and improved equipment performance. 
Streamline the maintenance of equipment with CloudApper CMMS
CloudApper CMMS is a robust, affordable, and entirely customizable CMMS software that boosts maintenance management in several ways. Maintenance managers can use it with their smartphones – making maintenance management mobile. Organizations with different requirements can even modify the app themselves, making it a must-have for those who want the solution to fit their business needs! 
Contact us now and learn how it streamlines and simplifies maintenance management at your facility.