Having multiple properties to manage is both a blessing and a nightmare for those in the business of renting them out. Even though this is undoubtedly an indication of success, the increased number of properties also increases the complexity of maintenance management. But if you are using CMMS software for property maintenance, it will definitely make managing properties easier.
Property Maintenance with CMMS Software
Property managers for businesses naturally have a lot going on. They are responsible for the day-to-day running and maintenance of their properties. This entails managing the buildings' daily operations, taking reservations for common areas, ensuring maintenance, and signing leases. They are in charge of taking care of the property and dealing with any problems that arise, like natural disasters.
One easy strategy to improve property maintenance management while also reducing the burden of routine tasks is to use automated software that unifies all building systems on a single platform. An all-inclusive CMMS software package provides tools for preventative maintenance and real-time alerts in the case of problems. CMMS software improves operations and manages assets so that the facility runs efficiently. The database is the heart of the CMMS program. A data model stores and retrieves data about a building's assets.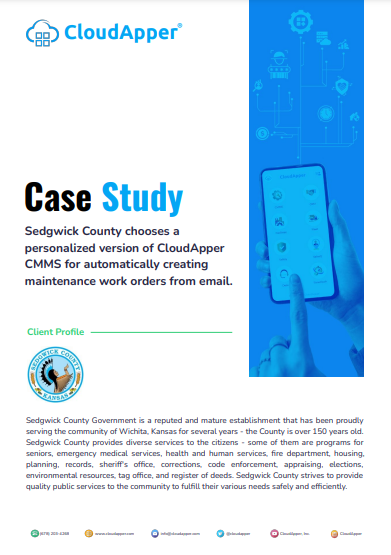 Case Study
Sedgwick County Deployed a Customized Version of CloudApper CMMS for Automatically Creating Maintenance Work Orders
Download Case Study
CMMS software is widely used in the commercial real estate sector to facilitate the management of work orders, vendors, preventative maintenance, and other tasks. This program allows property managers to keep their properties in top condition while minimizing expenses. Functions of the CMMS software that are particularly noteworthy are outlined below. 
Preventive Maintenance
To keep your property and its assets performing at their best, you must maintain them regularly. Preventive maintenance is how it is done, and most CMMS software comes with a preventive maintenance scheduler.
Work Order Management 
When you schedule preventive maintenance, a work order is automatically created. Using the work order module of the CMMS software, you can keep track of which work orders are currently running and which ones are pending.
Inventory Management
While managing work orders, you may need spare parts from time to time. If you do not maintain your inventory properly, you may end up not having specific equipment when you need it the most. The inventory module of the CMMS software will keep track of all the parts that are in your inventory and will also alert you when a part is running low.
Vendor Management
Increase safety while streamlining vendor management by using digital tools. By using CMMS software to streamline your vendor management processes, you may expedite the submission of vendor requests, keep track of vendors, streamline security checks, and view approved vendors in real-time.
Asset Tracking
If you have a large pool of assets to maintain in a property, they can be tracked in real-time using the layout map feature. You will know where a specific asset is on a property and see it in real time.
CloudApper CMMS Software for Property Management
CloudApper CMMS is one of the most versatile CMMS systems used in various situations and industries. From manufacturing to government to property management, it's simple with CloudApper CMMS software. You can even personalize the software to meet the needs of any industry or situation. Better yet, all of this can be done without writing a single line of code. If you are interested in learning how to use a CMMS for property management, schedule a free demo today.