Over a few years, CMMS options have expanded in number and variety. Software as a service or SaaS CMMS for maintenance management is gradually replacing traditionally licensed software that must be installed on company premises before it can be used.

The shift toward the SaaS CMMS 
A CMMS is a software that helps business organizations take care of their equipment. To what extent your company hopes to benefit from the implementation of CMMS software depends on your company's size and activities. Incorporating this cutting-edge software into your business can help improve efficiency across the board. 
Nowadays, we are experiencing a quiet shift in the CMMS industry. Even if the shift is slow, more and more business organizations are choosing this strategy. The shift is toward the use of SaaS software, and it's not just CMMS software for maintenance management but also an overall shift in the software industry. SaaS mode, also known as software as a service or subscriber, is a modern alternative to traditional software distribution models (on-site). The software is hosted on external servers under this approach, making it a kind of commercial software exploitation. Instead of purchasing a standalone copy, customers pay a recurring fee to have access to the service over the internet.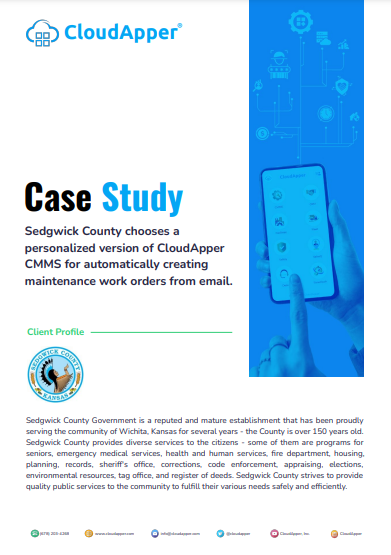 Case Study
Sedgwick County Deployed a Customized Version of CloudApper CMMS for Automatically Creating Maintenance Work Orders
Download Case Study
SaaS solutions enable business organizations to outsource their IT operations in their entirety through the combined supply of resources, services, and expertise. Therefore, it is a functional expense rather than a capital expenditure like traditional software.

What is SaaS CMMS Software

By subscribing to our state-of-the-art CMMS software hosted on our ultra-reliable and secure servers that are constantly backed up, users have access to the newest and best in CMMS technology. A SaaS-based CMMS does not require installation because it may be viewed directly from a web browser such as Google Chrome, Microsoft Internet Explorer, Microsoft Edge, and more. All major platforms are supported by our software, including Windows, macOS, Android, iOS, Linux, and Unix. Modern CMMS software also can be used on mobile devices. 
To ensure that your SaaS CMMS software functions quickly and reliably, vendors regularly test and upgrade all of the underlying components, including robust servers and network security. SaaS CMMS software from CloudApper eliminates the need for enterprises to host their software, set up their infrastructure, back up their data, or worry about keeping it secure. CloudAppa SaaS CMMS software takes care of all these at the source server.

SaaS CMMS software for maintenance management 
SaaS is well-suited to CMMS for many reasons, especially when compared to a CMMS hosted on a server managed in-house. Here are a few reasons why: 
Quick Deployment 
One of the primary benefits of SaaS CMMS is how quickly it can be implemented. Whereas traditional CMMS software requires extensive time and resources to deploy, a SaaS alternative may be up and running with only a few mouse clicks.
Unlike with conventional CMMS software, maintenance teams may quickly become productive with a system like Mobility Work since it requires less training. It's fairly simple to pick up and use after it's been installed and configured, as it was designed after the pattern of commonplace apps.
Safety and Integrity of Data
Whatever may happen to the computers at your workplace, your data will always be safe and accessible. The security of data stored on a SaaS server is likely to be higher than that of data stored on your system due to the investments made in security by SaaS companies.
Low Investment 
SaaS CMMS's biggest selling point is probably that it requires little or no upfront cost. This function is especially useful in a computerized maintenance management system.
Mobile Based
Technicians and other users in the field who rely on up-to-date information may simply access their service requests and alter their schedules from their mobile devices.
Flexible Pricing 
SaaS CMMS is scalable in that you only pay for the features you really use. By excluding unused components, you may reduce costs beyond what would be achievable with a locally installed software solution. 
Scalability
With a SaaS CMMS, you may tailor the program to your specific needs. This structure allows you to pick and choose the options that best suit your needs. It's simple to make changes and add new features to your SaaS subscription if you ever think you might need them. If you find you're not utilizing a specific service, you can deactivate that function at the time of your contract renewal.
Updates
SaaS CMMS software like CloudApper CMMS software is constantly updated, unlike on-premises software. As a result, end users may take advantage of a maintenance management tool. It is both consistently effective and responsive to their evolving technical and operational requirements. 
The decision to use a SaaS CMMS service comes with a bundle of benefits. By contracting with a third party to handle the IT tool's administration expenses. A firm may save the time and effort involved in handling this investment on its own while also reducing the associated risks. The CloudApper CMMS software provides a deeper commitment to maintenance teams by providing continuous improvement since it is more flexible and mobile than traditional CMMS software.