A maintenance management system helps to simplify and streamline maintenance operations. With the advent of computer technology, a variety of maintenance management systems have been developed. Leveraging internet technology, a lot of these systems today are cloud-based. 
Similarly, we provide cloud-based maintenance management solutions like CMMS, EAM, and FM software. You may have heard about computerized maintenance management systems, enterprise asset management systems, and facility management software – all of which are a subset of the maintenance management system. 
Back in the day, facility or maintenance managers used to record maintenance tasks, service and repair time, costs, and dates, equipment history, and other critical information on paper. In truth, paper-based systems are inefficient, can easily get lost or misplaced, and prone to human errors. 
With the advent of modern maintenance management systems like CMMS or FM software, the need for paper-based records has been eliminated. Ultimately, tools like CloudApper's CMMS and Facilities provide facility managers with a more simplified and efficient way to monitor and manage maintenance tasks.
A Brief Description of Maintenance Management
Maintenance management is the process of maintaining an organization's assets and resources while effectively managing time and costs to ensure the maximum efficiency of operations. From being archaic, hand-written, and tedious, maintenance management has now become more automated and computerized. As such, CloudApper's CMMS plans, tracks, measures, and optimizes all kinds of maintenance programs in a centralized system.
Maintenance management does not only pertain to a software system. It combines best practices, software, and best personnel; all focused on the same objectives. Also, not all businesses will have the same maintenance management plan, and the program centers around the type of maintenance employed at a plant. 
The Goal of Maintenance Management
The ultimate goal of maintenance management is to analyze the production, optimize operations, and find the best practices and processes in a specific field through proper upkeep of equipment and assets. For example, with CloudApper's CMMS, you can control costs, schedule works efficiently, and ensure breakdowns and failures are kept to a minimum. Here's why organizations use a maintenance management system: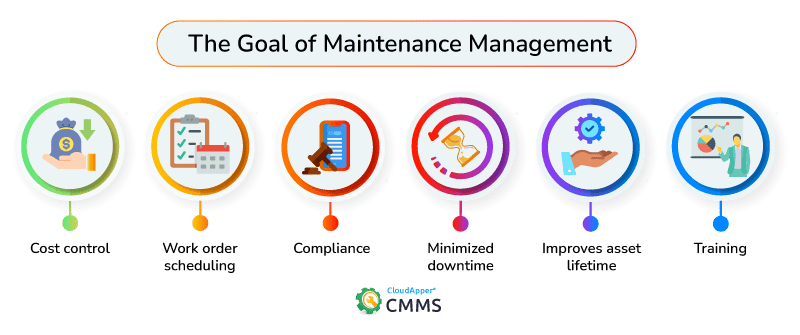 Cost control
Like CloudApper's CMMS or Facilities, maintenance management systems provide managers with the information to efficiently allocate resources from the budget. 
Work order scheduling
One of the main purposes of using CMMS is to help managers schedule work and allocate time and labor resources to improve work productivity. With a maintenance management system, managers understand the overall process to determine priority levels of various activities.
Compliance
Production plants, manufacturing plants, and even healthcare facilities must abide by global, state, and federal rules and regulations, and certain safety standards. A maintenance management system can help identify problems before they occur, which ultimately ensures assets pass inspection by public authorities and at the same time provide solid documentation that the equipment is maintained according to the required standards. 
Minimized downtime
A good maintenance management system helps establish a planned maintenance program to reduce the likelihood of machine failures and breakdowns resulting in the loss of productivity. In a way, fewer production halts mean less revenue lost. 
Improves asset lifetime
Machines and equipment take up a large portion of the total investment made. A CMMS ensures that these machines and equipment are always in good working condition. Through proactive and regular maintenance, machines, facilities, and other critical asset's wear and tear are kept to a minimum, which helps extend their usefulness and life. 
Training
As mentioned above, businesses have to comply with various rules, regulations, and safety standards. This requires training personnel in specific maintenance skills, the appropriate ways of handling machines and conduct procedures, advising on the acquisition and improving operational safety, and many more. Modern CMMS software like CloudApper's has built-in training management features to help managers simplify and streamline personnel training. 
Get A Look Into A World-Class Maintenance Management System 
CloudApper develops the best business automation software, including maintenance management systems such as CloudApper CMMS software (computerized maintenance management system), Facilities (facility management software), and Assets (enterprise asset management system).  
To learn more about CloudApper CMMS, get in touch with us today and one of our customer success specialists will be happy to assist you.