Computerized maintenance management software (CMMS) stores a database of information regarding the organization's maintenance tasks. Maintenance managers can use CMMS to easily automate specific tasks and keep track of maintenance jobs. Unfortunately, can be challenging due to high upfront investment and IT expertise. However, with the innovation of cloud-based CMMS software, maintenance managers can access all benefits without the burden of installation or maintenance of the CMMS software.
Get Started Right Away
CMMS by CloudApper is a cloud-based, computerized maintenance management system that automates maintenance scheduling, work order management and allows users to perform an array of tasks. Unlike an on-premise CMMS software, maintenance managers enjoy a faster and easier initial setup process and implementation. Users simply log in to access work orders, work alert, scheduling, assets, equipment & inventory, projects, reports, and labor & parts management. Maintenance managers no longer have to coordinate with IT departments to ensure proper hardware, software, or installation support. Cloudapper's CMMS users can begin using the system immediately after the subscription is completed.
No More Device or Location Dependency
Since the system is in the cloud, Internet access is the only type of system requirement needed to access your CMMS. Maintenance professionals can access the system at any point, anywhere. Whether you are using a desktop computer, laptop, tablet, or mobile phone— CloudBased CMMS users enjoy the freedom of being able to work on whatever device that's most convenient for them. The solution provider hosts the software, provides support and scalability, manages databases, and monitors system performance on an ongoing basis. This ensures increased efficiency and productivity, and managers can view real-time updates to work orders from any location on their preferred device.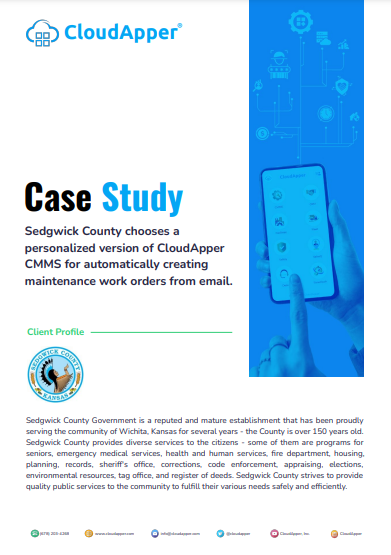 Case Study
Sedgwick County Deployed a Customized Version of CloudApper CMMS for Automatically Creating Maintenance Work Orders
Download Case Study
Lower Costs
By opting for a cloud-based CMMS software, companies reap the benefits of a CMMS software at a fraction of cost. Cloud-based solutions eliminate the cost of software installation, hardware investment on machines, as well as support and maintenance costs. This, in turn, reduces the initial investment requirement and the risks involved with it. Considering most cloud-based service providers offer SaaS pricing models, you don't have to spend money on server hardware, licensing, and network configuration.
Get All the Latest Features
With CloudApper's CMMS, we always invest a lot of time and effort in providing our customers with the latest features, fixes, and security updates. Forget about manual software updates or the time-consuming upgrade process. We will keep your software updated all the time without affecting your business operation. Most cloud-based software providers continuously monitor their system for bugs and fix them immediately. In addition, they keep regular backups of your data for safety reasons.
State of The Art Security
At CloudApper, it is our utmost priority to protect the privacy and security of your assets and maintenance data. We work with industry-leading, reliable partners to protect and continuously back up your data, performing system maintenance as needed. Our software is hosted on multiple servers and monitored at all times to ensure the best user experiences. In addition, cloud CMMS systems are less vulnerable to virus attacks compared to local software solutions as there is no local data.
Free trial of Most advanced CMMS software by CloudApper
CloudApper CMMS is a mobile and cloud application that simplifies the management of enterprise assets and equipment, maintenance schedules, inventory, work order routing and reporting. The solution helps employees to operate more efficiently and provides management with real-time visibility into the status of their assets and maintenance plans. Contact us today.