Maintenance is the key to keeping limestone equipment, or any other equipment, operating at its peak. To process limestone, you need equipment like pelletizers, rotary dryers, belt conveyors, bucket elevators, steep incline conveyors, and more. To make sure all this equipment is properly running and well-maintained, you can use CMMS software.
About Limestone Mining
When we talk about construction, one of the phrases we often use is 'limestone' Depending on how hard the rock is, blasting or machines are used to get the limestone out of the rock. It's a rough crush. After the stone has been broken up, it is screened to separate it into different sizes before going on to be processed further.
Limestone may be one of the most multi-purpose rocks and can be used in many different ways. Limestone can be used for various building materials, including road bases, railroad blasts, foundation stones, and drain fields. When limestone is ground into a fine powder, it can be used to make cement, an essential part of the building industry.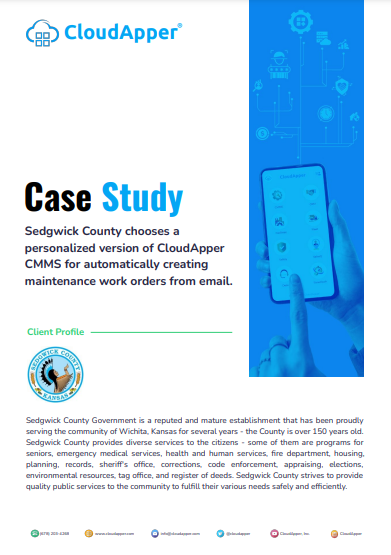 Case Study
Sedgwick County Deployed a Customized Version of CloudApper CMMS for Automatically Creating Maintenance Work Orders
Download Case Study
Limestone Mining Equipment 
In most parts of the world, quarries or open pit mines are the two primary locations from which limestone is extracted for use. The removal of limestone may be done in this manner with the least amount of effort and disruption. Surface mining and open pit mining both include stripping away the topsoil, as well as the overburden that is covering the mineral. Here are a few common types of equipment used in mining:
Drill Rigs and Rock Drills
Underground Mining Loaders & Trucks
CMMS Software for Maintenance 
Maintenance professionals use CMMS software to plan, manage, and enhance building, plant, or facility maintenance, and to simplify operations. By using CMMS software well, organizations can extend the life of their assets and equipment, lower their overall costs, and improve the dependability and productivity of their assets.
CMMS software aids in the management of equipment and inventory by centralizing all asset history and maintenance-related tasks. A strong analytical dashboard assists maintenance personnel in future planning and decision-making.
To handle maintenance information, many maintenance personnel used to or still use "pen and paper" or spreadsheets. Although beneficial at the time, this outmoded technique has several drawbacks. Spreadsheets and paper-based systems are time-consuming, open to mistakes, and lack the potential to simplify maintenance operations that a CMMS does. Experts now use CMMS software as their main maintenance tool to make operations more effective, easier, and faster.
CloudApper CMMS Software 
Many confuse CMMS software with EAM software. While EAM (Enterprise Asset Management) deals with asset lifecycle management, CMMS automates the maintenance cycle of assets. 
CloudApper CMMS is simple to use, and adaptable and allows enterprises to customize the platform to meet their specific needs. On one end, facility or maintenance managers may utilize the web-based tool to examine and retrieve asset repair histories and issue work orders to technicians. On the other hand, technicians can get work orders from practically anywhere using a smartphone, PC, laptop, or another smart device. Technicians can also update maintenance records and log essential information for supervisors to view.
Top CMMS solutions improve cooperation and provide smooth team communication. Organizations may automate their maintenance of limestone equipment using the extensive functionality provided by CloudApper CMMS.