Without the right technology, for example, the CMMS software, steel industry would struggle to keep its asset maintenance initiatives successful. Steel is an essential thing in modern life. It is used to make the buildings in which we live and work, as well as for the tools, appliances, and utensils we use, the cars we drive, and much more. Since steel is in high demand, the industry is very price competitive. To keep making profits and keep their margins stable, steel mills must focus on ways to cut down costs, such as making the best use of maintenance resources.
What is CMMS Software?
CMMS stands for "computerized maintenance management system" A CMMS could potentially save you a significant amount of money due to it does for you and your business. Overall, it keeps track of all the maintenance work you do and the equipment that needs it. It also keeps track of how you work and how much your maintenance practices charge. Although maintenance takes up a big chunk of your finances, you can't do too much to save money on it. Not only can a CMMS help you manage your maintenance, but it can also help you find ways to save money in the long run. So, how will a CMMS aid the steel business?
CMMS Software For Steel Industry
Every manufacturing industry that depends on heavy machinery requires proper maintenance. And when we are talking about the steel industry, the importance of CMMS software can never be underestimated. The steel industry actually falls under the metallurgy sector. Metallurgy is a large industrial field with three main specialties that are very important to the manufacturing industry. Maintenance tasks are crucial and must be changed based on the conditions of production. Here are a few of the top benefits of using CMMS software for the steel industry: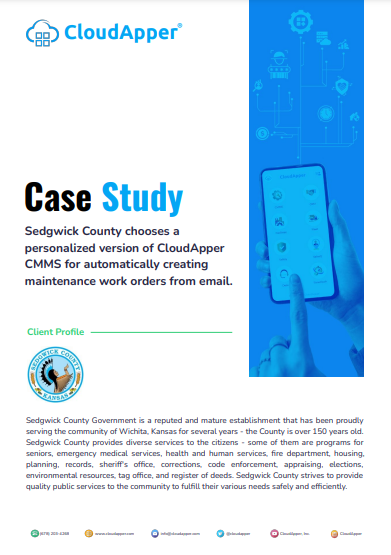 Case Study
Sedgwick County Deployed a Customized Version of CloudApper CMMS for Automatically Creating Maintenance Work Orders
Download Case Study
Operating Locations:

Many CMMS software has a feature that lets you keep track of where your steel equipment is being used. The benefit of that is that you can keep track of how long your equipment lasts and how well it works. Thus, less money will be spent on replacing equipment that doesn't work as well as it used to or that has a shorter life cycle.

Labor Resources:

An app that keeps track of your maintenance workers' trades and skill levels can help you give each group the right tasks. This app could also help keep track of real labor costs.

Keeping track of your inventory for maintenance can save you a lot of money. You'll know exactly what resources you have and what you need to order. It can also help keep track of how long it might take to fix a key piece of machinery. If you have to wait too long for a spare part, you could lose money because the machine isn't being used.

Preventive Maintenance

: One of the best things about CMMS software is that it comes with a module for preventive maintenance. If you take care of your machines and equipment, they will work well and last longer.

Equipment History

: A program that keeps track of the history of equipment is a must for good maintenance. When a piece of equipment is getting close to the end of its life, it is very helpful to know when it was bought, when it was last serviced, and when it was last fixed. This can help you avoid a major breakdown or get you ready to buy new equipment.
CloudApper CMMS
With CloudApper's cloud-based computerized maintenance management system, tasks like tracking work orders and automating maintenance schedules are taken care of. This cloud-based CMMS software is used by maintenance managers because it is easier to set up and use. By logging in, you can get work orders, work alerts, and scheduling. You can also view asset, equipment, and inventory management, as well as labor and parts management.
In the past, maintenance managers had to work closely with IT teams. They had to provide proper support for hardware, software, and installation. Once signed up, users can use the CloudApper CMMS right away.
CloudApper CMMS gives real-time information about assets and work orders so that downtime for assets is kept to a minimum. This makes assets more productive. To streamline maintenance requests, tasks, and activities, government agencies need affordable solutions that can be tailored to fit your needs.