Selecting the appropriate software for asset management is crucial. The terms enterprise asset management (EAM) and computerized maintenance management system or CMMS software are likely to become familiar to you if you work in an industry that relies heavily on managing physical assets. Conducting an in-depth CMMS vs EAM comparison will help you make the best decision for your company.
What is CMMS 
Maintaining equipment is made easier and more efficient with the help of computerized maintenance management software, which also facilitates communication between various maintenance-related operations. Upkeep is a priority for CMMS. The CMMS is a tool for facilitating interaction and cooperation between departments. Its primary functions are the computerization of asset databases, the management of work orders and inventory, and the control of maintenance schedules. Work order management is one essential function of CMMS systems.
As a key component of your maintenance database, work order management software offers a digital replacement for paperwork orders. An optional add-on for an EAM system, a work order management system is a must-have for a CMMS.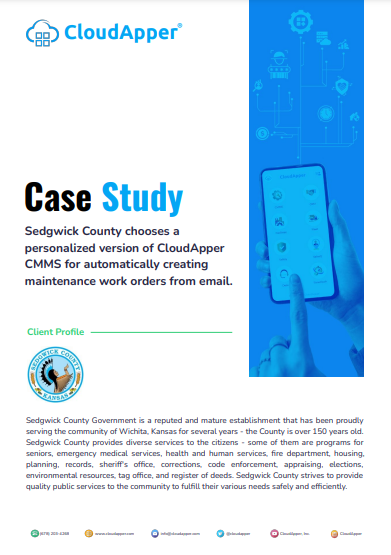 Case Study
Sedgwick County Deployed a Customized Version of CloudApper CMMS for Automatically Creating Maintenance Work Orders
Download Case Study
Automation of routine tasks is another benefit of CMMS, which can be achieved through the system's ability to integrate with other programs and feature approval workflows. Simply put, a CMMS helps a company keep its assets in tip-top shape and avoid costly breakdowns and other problems.
What is EAM?
Software designed for managing enterprise assets helps ensure that assets are protected throughout their useful lives and are utilized to their fullest extent. Many people consider it a superset of CMMS due to the increased granularity of its asset-targeting capabilities. It has the capabilities of a CMMS and more.
As an example, take the asset life cycle management feature that many EAM systems are used to providing. Understanding the stage an asset is in during its life cycle is crucial for proper management. This helps you evaluate the asset's worth to your company.
The functionality of asset life cycle management aids users in preparing for upgrades, replacements, and other changes that could cause significant setbacks if they were to occur unexpectedly. It was once only available in EAM systems, but as CMMS evolved and grew in capability, it began to be provided by EAM as well.
CMMS vs. EAM
In this section, we will see a direct comparison between CMMS vs EAM. While all (or nearly all) EAM solutions have some CMMS capability, not all CMMS tools have EAM features and functions, which is another way to explain the general difference between CMMS and EAM. Unlike CMMS, which focuses on only one aspect of a company's operations, EAM considers the whole picture. However, CMMS puts more emphasis on maintenance. EAM monitors the asset from the moment it is bought, while CMMS doesn't start tracking until after the asset has been bought and installed.
Whereas CMMS is built for managing a single location or multiple locations with limited functionality, EAM systems are equipped with a wide range of tools for managing multiple locations and companies. EAM is more specialized and versatile in terms of asset management. In comparison to enterprise asset management systems (EAM), computerized maintenance management systems (CMMS) are limited in their capabilities. Their differences are more than just a few extra accents. They are two separate programs that illustrate alternative approaches to the management of assets.
To rephrase, we can say that EAM is more flexible and powerful in its implementation, as well as more advanced in general than CMMS. There is some similarity between the differences between BI and BA, in that both can be found within the scope of the other. Or, compare the organizational differences between enterprise asset management systems (EAM) and computerized maintenance management systems (CMMS). When a company outgrows a basic CMMS system, it may consider making the switch to EAM.
Which one is right for your organization?
The battle between CMMS vs EAM is an old one. Enterprise Asset Management is the best option if your company operates out of multiple locations and has a wide variety of assets. More integration choices are available with EAM than with CMMS. EAM software is one of the tools that can be used. It has advanced features for tracking and analyzing life cycle costs, as well as strong maintenance and asset management features. 
The computerized maintenance management system is perfectly adequate for handling the upkeep management requirements. This is ideal for any mid-to small-sized business, including MRO (Maintenance, Repair, and Operation). As a result, CMMS may be the most practical choice for a company of any size. Though there is a misconception that CMMS is only used for small organizations, like CMMS software for hotels. But if you have the right CMMS software, you can even have functions of EAM in CMMS software.
CloudApper CMMS
CloudApper offers custom CMMS software that can be bent to fit the needs of any organization. EAM has lots of functions and you may or may not need all of them. On the other hand, CMMS software has all the functions you need for asset maintenance. If you combine some of the EAM features with CMMS. You will have a robust system that can get the job done for you. To learn more about it, please get in touch with CloudApper.