One of the worst nightmares of any manufacturing organization is when they experience unexpected downtime in production. While planned downtime is scheduled and doesn't affect production or other business operations, unplanned downtime occurs out of the blue, causes disruptions and bottlenecks, and is quite costly. Unplanned downtime typically occurs due to several issues such as supply constraints, shortage of workers, and primarily, malfunctioning or offline equipment within the plants.
Doing the math makes it quite clear – if critical assets malfunction, they create disruptions, workplace accidents, and other events, leading to worse throughput, lower units produced, lower revenue, and higher losses. As a result, reducing equipment downtime in production facilities is imperative. Fortunately, maintenance managers can reduce unplanned equipment downtime and ensure smoother production using the following hacks.
Six hacks to reduce unplanned downtime in production facilities
Use preventive maintenance for crucial machinery 
Yes, we've been talking about preventive maintenance for quite some time now, but that's because many organizations and maintenance managers are still using reactive maintenance. While we're not asking companies to abandon reactive maintenance completely, critical assets imperative for production must be shifted to preventive maintenance.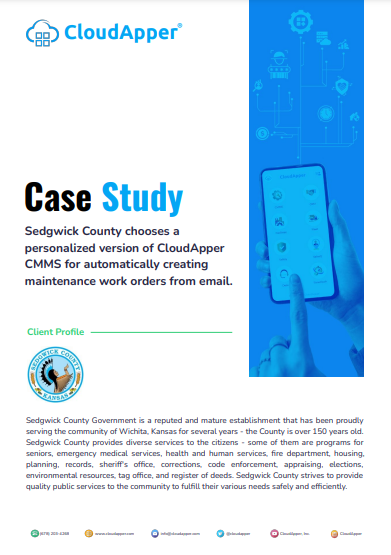 Case Study
Sedgwick County Deployed a Customized Version of CloudApper CMMS for Automatically Creating Maintenance Work Orders
Download Case Study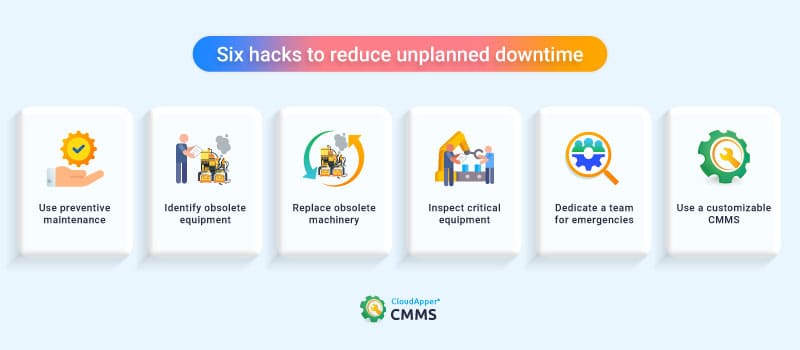 Maintenance managers know quite well what preventive maintenance is and its benefits – most of them are worried about the initial costs. However, it can significantly reduce downtime in production as scheduled maintenance helps the pieces of equipment run smoothly, last longer, and cause fewer disruptions. Moreover, preventive maintenance planning leads to reduced maintenance, repair, and replacement costs – making it a cost-effective approach down the line.
Perform audits to identify obsolete equipment
Auditing all the equipment within an organization is undoubtedly an arduous task, but it helps reduce production downtime effectively. For instance, it helps identify which pieces of equipment are obsolete, which ones are nearing obsolescence, and which ones need replacements. Identifying such equipment is essential because these might have limited spare parts available, receive limited support from the manufacturer, and are more inclined to breakdowns due to their age – the latter can lead to overheating and workplace safety incidents. 
As a result, auditing the pieces of equipment and identifying the problematic or obsolete ones can highlight which ones need to be dealt with to reduce downtime in production facilities. These can either be sold off or repurposed and replaced with newer ones. Speaking of replacement, let's move to the next point. 
Replace obsolete machinery 
As mentioned earlier, organizations can have obsolete pieces of equipment that are still operating within their facilities. While equipment nearing obsolescence still has some use, it's inefficient and will slow down production. Therefore, obsolete machinery needs to be upgraded as soon as possible. Ancient machinery will inevitably break down, and when they do, repairing or servicing them can be quite tricky due to several reasons, leading to higher production downtime. 
Thus, replacing obsolete equipment is instrumental in reducing production downtime. Moreover, newer equipment brings several advantages and features, improving efficiency, reducing costs, and improving throughput. 
Frequently inspect critical equipment
Providing regular maintenance is just one part of reducing unplanned machine downtime – there's more to it – proactive maintenance managers schedule inspections with the crucial machinery required for production. While regular maintenance provides the equipment with the materials and calibration it needs to perform reliably, inspections help identify any underlying problems. As a result, problems are identified quickly and solved before they lead to malfunctions and disruptions – ensuring smoother production.
Create a dedicated emergency maintenance team
While preventive and predictive maintenance can significantly cut down production disruptions, unexpected equipment malfunctions can still occur for various reasons. Creating and training a small, dedicated team that can be quickly dispatched for emergency maintenance tasks can help reduce production downtime that doesn't hamper regular maintenance activities.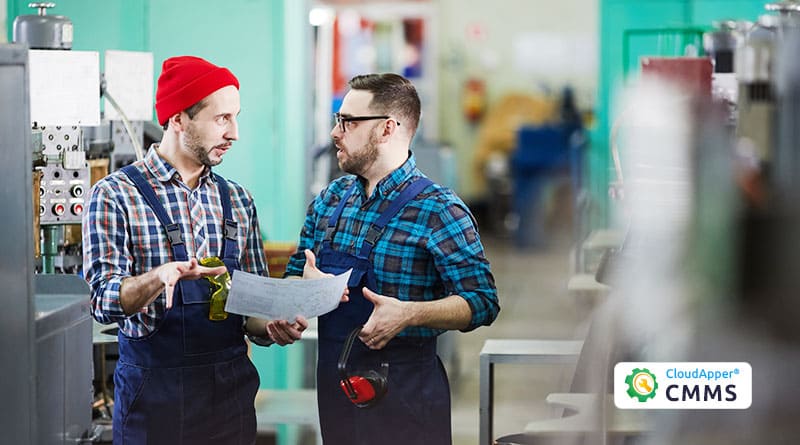 Use a customizable and mobile CMMS solution
When it comes to reducing production downtime, using a robust CMMS software solution is a must. However, these solutions come in all shapes and sizes, can be expensive, and maintenance managers might need to modify their maintenance management practices to fit the solution. For maintenance managers who want a solution that meets their needs seamlessly, CloudApper CMMS is perfect. 
CloudApper CMMS is a robust, affordable, and customizable CMMS software solution. It provides a host of essential features like maintenance scheduling, work request and order management, an insightful analytics dashboard, vendor management, asset management, and more – all of which are entirely customizable.
Maintenance managers can easily modify the app themselves! It requires simply dragging, dropping, and modifying editable modules, testing the app, and publishing it. The robust CMMS is built using CloudApper, a no-code enterprise mobile app development platform, making customization so easy. 
CloudApper CMMS costs only $10/user/month, and within the same subscription fee, users get access to a wide array of other mobile enterprise applications that can transform business processes. 
Contact us now to experience how it can streamline maintenance and reduce production downtime at your facilities.