For many years, companies have used CRM software to keep track of their customers. However, now advanced platforms are available. Relationships with customers is the top priority when an organization wants to move towards success. As a result, many firms are offering the same service to the same customers. In this competitive market, CRM is no longer optional. Those who can keep up with the changing demands of customers remain the biggest players in the market. Modern CRM aims to record customer information in a way that improves customer experience, generates maximum sales, and customizes customer correlation by individual data. The success of today's CRM is based on yesterday's internal operational efficiencies, enabling these solutions to better support customers throughout their ongoing interactions, resulting in satisfaction and long-term loyalty. Modern CRM strategies provide excellent customer service. They support customer interactions across a variety of social, digital, and mobile channels.
CloudApper CRM
Businesses are in the marketplace to introduce a product or service. In a broader sense, companies are there to fill a market gap that customers demand. Qualitative customer service contributes to the maximization of a business's profit. Therefore, every business should have dedicated customer service. CloudApper brings hundreds of Apps under one roof that includes CRM (Customer Relationship Management). CloudApper CRM simplifies the CRM process by reducing complicated features from a CRM tool.
Straightforward Database
CloudApper CRM makes information easy to explore quickly by keeping a historical log. The centralized database can schedule reminders for special events. Another important aspect of using CloudApper CRM is ensuring that current and prospective customers receive consistent messages and support from the company. When a company logs in a customer, it collects data like email, number, and postal address. It is easy for the company to set automatic responses to the latest offers when they have all information centralized in one place. Employees and the sales team can also access data when needed. With a self-tailored drag and drop interaction platform, sales get deeper insights into growth.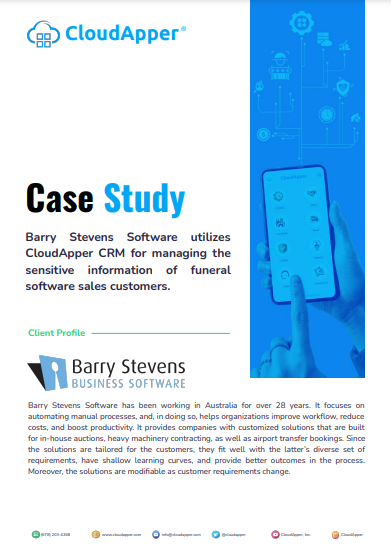 Case Study
Barry Stevens Software Deploying CloudApper CRM for Managing Funeral Software Customers
Download Case Study
Data Privacy and Security
KYC (Know Your Customers) defines a system for finding all necessary information regarding a customer's identification. Banks and real estate mainly follow this system. KYC generates data from reliable, authentic sources. It is essential to keep these data safe from being misinterpreted or misused. CloudApper CRM secures the privacy of your customer's personal information. Once the customers trust your company, they are more likely to choose you regularly. It facilitates a customer's first step towards brand loyalty.
Prioritize Your Customer
Customers should always get the top priority in your business. CloudApper CRM gathers all necessary information from customers and synchronizes data according to the importance of the task. Thus, the process of contacting a prominent customer becomes easy. CRM connects the communication channel. The more details a business can gather about its customers, the greater their possibility to market its specific products to specific customers.
Conclusion
Suppose you are an entrepreneur, startup, small business owner, or a fast-paced company looking for a reliable CRM tool. In that case, CloudApper CRM can help you stand out in a competitive market. Additionally, you get a professional support team for your business without having to hire them. A CRM application can be the driver to get your business to the next level. Focus on CRM outcomes for revenue growth rather than operational efficiencies. Don't focus on complex cost-based CRM rationales. Your CRM system should contribute to achieving high profitability. Additionally, it should also advance the level of customer acquisition, loyalty, and growth strategies.