We recently conducted a survey where we asked our external advisors for their feedback on the kind of data we should collect for this year. We made an effort to re-examine the manner in which sales companies are now making use of the technology and determine whether or not it is having a significant effect on sales. In an effort to avoid unnecessary complications at the outset of this research, the question that was included in the poll was as follows: Is customer relationship management (CRM) utilized in your organization as a system of record for gathering and storing customers data and prospects, or as a system of engagement for improving relationships with customers and prospects?
After receiving more than 500 replies to the poll, we took a snapshot of the data, which revealed that respondents were almost evenly divided between the two groups. When we subsequently examined the sales success of both cohorts by looking at the result of the transactions that were projected, we gained a critical insight, which can be seen in the graphic that follows.
The considerable disparity in win rates was noticeable in light of the current uncertain economic and political climate, when most sales organizations are seeking strategies to enhance sales performance. When examining win rates, the primary emphasis is not on increasing the number of opportunities discovered by a sales organization; rather, it is on increasing the number of deals previously discovered and successfully closed. The difference in scores between the groups using systems of record and those using systems of engagement is around 30 percent. The effect on revenue performance would be enormous if a sales organization that relied on a system-of-record was successful in implementing the required modifications to transform CRM into its system of engagement. However, this raises the following question: What distinguishes the ways in which these two groups use CRM?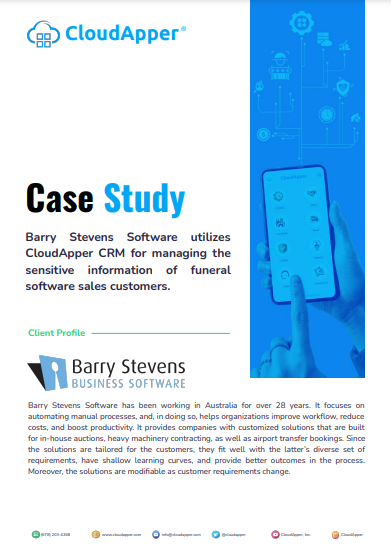 Case Study
Barry Stevens Software Deploying CloudApper CRM for Managing Funeral Software Customers
Download Case Study
When a CRM is used largely as a system of record, the most-used features are tools for managing contacts, accounts, opportunities, and pipelines, respectively. When we asked sales organizations to share the top three generated benefits of CRM as a system of record, the most common answers were that it reduced the administrative burden placed on sales professionals, improved communication between salespeople and sales managers, and streamlined the process of forecasting sales.
Clearly, these are beneficial changes; but, what they really represented was an increase in the effectiveness of the sales process. In light of the fact that sales teams also confront difficulties in terms of their efficacy, sales organizations not only need to search for methods to free up time for salespeople so they can make more calls, but they also need to make use of technology to assist salespeople in making excellent calls.
If you are just using CRM as a record-keeping tool at the moment, you should investigate the many ways in which you may start transitioning it into a system of interaction right now. And if you are already using a system of engagement, be informed of the capabilities available to your sales teams and ensure they have received adequate training on how to incorporate those capabilities into their regular workflow. This is especially important if you are already using a system of engagement. These are incremental improvements to the way you are now doing sales, and the return on investment (ROI) will cover the cost of implementing this change.