What is CRM?
CRM (Customer Relationship Management) is the process of securing interactions between an organization and its customers. The process is coordinated by gathering customer information, organizing critical data, using strategies to monitor customers' behavior, and providing them feasible support that nurtures the relationship. CRM tools can be the driver of a firm's profit route.
The types of CRM tools available in the market keep changing as the use of technology expands. As a result, it's often difficult for companies to choose the best fit for their organization culture between on-premise and cloud-based CRM. To resolve this dilemma, one must have a clear understanding of these three types of CRMs.
Types of CRM Tools
On-premise CRM
CRM system that requires a self-hosted server by a company is called on-premise CRM. It also requires licensing to store customer information on the company database. In the 90s, a few companies like Oracle and SAP were selling on-premise CRM solutions since they had so many limitations. Companies that implement on-premise CRM must have specially skilled IT experts to update the software and fix the bugs. Despite the constraints, a company can have extra control over its data by using on-premise CRM.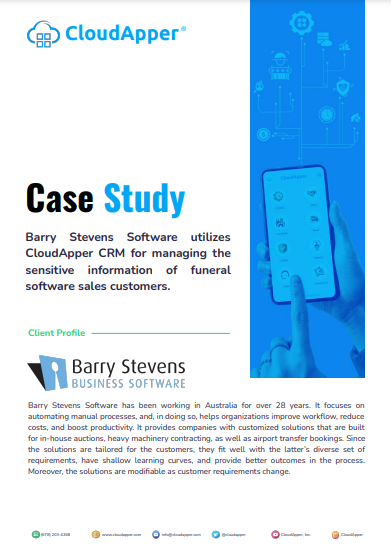 Case Study
Barry Stevens Software Deploying CloudApper CRM for Managing Funeral Software Customers
Download Case Study
Pros:
Better control over data
The company can have their customized system
Hardware issues can cause software dysfunction
Independence to select language and currency
Cons:
The extra maintenance cost on updates
Requires training to use the system
It cannot be accessed from mobile devices
Limited capacity
Cloud-based CRM
Technology had a massive upgrade after the 90s. People demanded that technology should be available for everyone. Besides, they wanted all the platforms to be easy to operate. So tech developers gave their best to turn the world into an accessible tech hub by introducing cloud-based servers.
A cloud-based CRM does not require the company to have its own server or license to access customers' data. Instead, they use a standard server that shares cloud storage to run CRM systems. A cloud-based CRM system is also called on-demand CRM or SaaS (software as a service). With cloud-based CRM a company can access data from anywhere since it allows both mobile and Windows platforms. This omnichannel availability of cloud-based CRM has made it more popular among companies that are determined to keep track of customers without any special skills.
Pros:
It does not require having a dedicated server
Easy and quick set up
Saves maintenance cost
Unlimited data input
Automatic updates
Flexible scalability
Consolidation with other apps
No restrictions on switching on-premise CRM if needed
Cons:
Monthly subscription cost
Data Security can be an issue
Mobile CRM
This is a commonly used CRM platform of the recent era. It allows organizations to monitor its customers remotely. Nowadays, people cannot imagine life without their cellular devices. They expect that whatever they access from laptops or PCs, which should be accessible from their mobile phones. Thus, mobile CRM comes into the spotlight. Mobile CRM is also cloud-based. It can synchronize and distribute information in all departments of the company in a few clicks. No matter if a team member is traveling for work, working from home, or at the office, mobile CRM allows them to access data any time, anywhere,
Pros:
Easily accessible
Implement BYOD
Building team cohesiveness
Able to reach customer fast
Cons:
Data security issues
Reduce fieldwork efficiency
Which one fits the best for your business?
To choose between on-premise and cloud-based CRM, there are a few questions that you need to consider about your business.
What is the size of your company?
What do you expect from your CRM tool?
Do you have experts to handle your CRM system?
Do you want to use your CRM for multiple purposes?
Do you need your CRM to be multichannel?
What is the budget you can allocate for your CRM system?
Your answers to these questions will help determine which one fits your company best. However, the recommendation is that a company should start with cloud-based simple CRMs. For example, you can take advantage of a free trial for the CloudApper CRM. CloudApper offers the best CRM solution for beginners. It is user-friendly and customizable. CloudApper can also act as a third-party integrator if any company wants to switch to on-premise software.