When I was working on CloudApper's customer success team, one of my favorite apps to work with was the CRM. I was really surprised at how our customers were able to customize and use the product to achieve their business goals. The straightforward software did a lot more than just customer data management — it created opportunities for companies to improve the customer experience and, in this article today, we will discuss how.
What is CRM?
Customer relationship management (CRM) is a software that facilitates practices, strategies, and technologies that companies use to manage and analyze customer interactions and data throughout the customer lifecycle. The goal of this software is not only to improve the customer service process to drive sales growth but also to improve customer retention. CRM systems store all types of customer data across different channels, or points of contact, such as the customer's contact information (website, telephone, email, etc.) or the logs of previous interactions like live chats, direct mail, or social media interactions. CRM systems can also give customer-facing staff members valuable heads up on customers' buying preferences and concerns, related personal information, purchase history, etc.
The Different Types of CRMs
Although most CRM software encompasses a range of capabilities and modules, it can generally be separated into three main categories. Here are the types of CRMs and the features that make them identifiable for each other: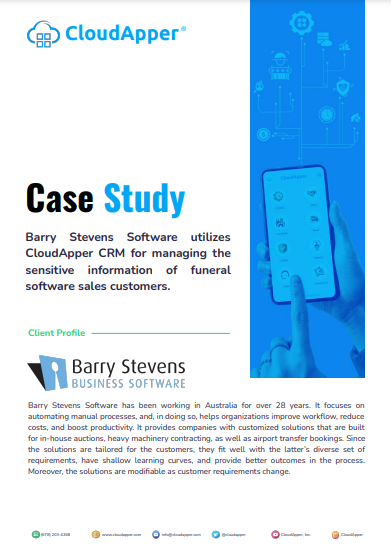 Case Study
Barry Stevens Software Deploying CloudApper CRM for Managing Funeral Software Customers
Download Case Study
Operational CRM: Salesforce automation, Marketing automation, Service automation
Analytical CRM: Data warehousing, Data mining, Online analytical processing
Collaborative CRM: Interaction Management, Channel Management, Activity streams
CRM Optimizes Core Business Functionalities
CRM allows businesses to manage customer relationships, including the data and information associated with them. With CRM software, you can store customer and prospect contact information, account information, leads, and sales opportunities in one central location. A proper CRM solution handles multiple core functionalities and serves as a central dashboard for the following:
Sales
Marketing
Customer service and support
Finding and sharing critical information fast
Tracking customer responses
Assigning tasks to employees
Form Better Relationships with Customers
Having a good knowledge of your customer's behavior and preferences enables you to develop highly targeted marketing strategies that meet their specific needs; as a result, both sales and customer satisfaction increases. But what other ways do you have to safely collect, store, and filter customer data than a CRM software?
A customer relationship management system can be a useful tool in your marketing plan. By recording your customer's likes and dislikes about a product, their purchase power, and their location, age, and gender, CRM software enables you to build up a detailed picture of their preferences, needs, and buying habits. All this information enables a salesperson to fulfill the customer's needs and form a strong relationship with them.
A CRM Can Improve Customer Service
When you have a centralized list of open issues in your CRM, you can handpick and assign specific employees to resolve each issue based on their expertise. This speeds up the customer service process because it puts the right person on the job from the very beginning. You can also change or move employees between issues easily through the system, which can avoid wasted time by ensuring that two people are not working to solve the same problem at the same time.
A centrally organized tracking system for customer requests and feedback makes it easy to spot common problems and identify areas for improvement. This could mean fixing a bug that appears frequently, making a hard-to-find button more visible, or making other changes to improve the customer experience and minimize the number of issues that require staff responses through automation.
CRM Facilitates Faster Response Time
A CRM system facilitates the development of better and faster communication channels. Technological integrations like website forms and interactive messaging systems can make work easier for the sales representatives as well as the customer service team. Additionally, businesses with a CRM have a chance to find and share required information with customers, as everything is organized systematically in a central location. Such strategies ensure faster delivery of customer service and quick response to inquiries and feedback from customers.
Accelerate your customer relationship management with CloudApper CRM
CloudApper CRM is the easiest app for relationship management with existing and potential customers of any enterprise. It accelerates the process of business lead capturing and qualifying, as well as keeps track of the communications for managing interactions between the company and existing or potential customers.