A field sales tracking app can help you keep count of the sales meetings being attended, any relevant information from those meetings, and the actual authenticity of meetings. Using such an app can help project whether reps can do better if they are hitting assigned targets, and if they are not, what could be done to aid them.
As businesses scale, it becomes impossible to track every interaction manually. Technology and the internet make it possible to track sales interactions through mobile apps. CloudApper is a no-code platform that helps you create apps to digitize business processes. CloudApper SalesQ is a field sales force tracking app that can help you track sales tasks and authenticate client visits.
Why Track Sales Meetings?
Sales meetings should be tracked for the following reasons: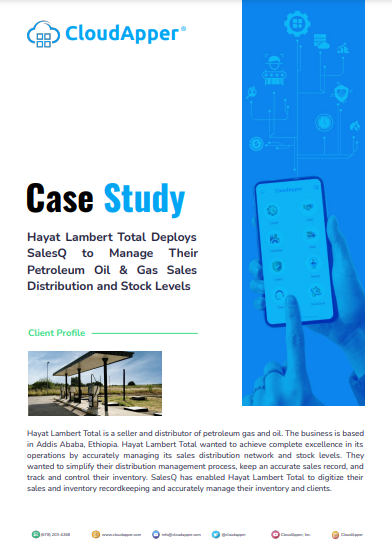 Case Study
Hayat Lambert Total Deploys SalesQ to Manage Their Petroleum Oil & Gas Sales Distribution and Stock Levels
Download Case Study
Performance Management
SalesQ allows you to track the performance of sales reps by analyzing the frequency of attended meetings. This can help you understand what is leading to conversions, and whether adequate revenue is being generated. You can provide strategies to reps in the field to ensure that they perform better.
Capturing Feedback
A field sales tracking app can also ensure that sales reps note details on clients. This helps to take feedback into account to improve products and offerings, and customize subsequent presentations based on client preferences. Satisfied clients usually buy more, contributing to increased revenue.
CloudApper SalesQ for Field Sales Monitoring
SalesQ can help you track the meetings attended by sales reps.
Track Targets
Whether the sales team is hitting their KPIs can be tracked through SalesQ to ensure that the objectives of the company are being met. Individual and company targets can be tracked in terms of visits completed, the number of orders generated, and the number of units shipped to ensure sales meetings are being fruitful.
Authenticate Field Visits
Sales teams can be entrusted with visits if they have SalesQ on their phones. Geo-fencing allows reps to only provide check-in reports from the locations of clients, increasing the authenticity of visits. This makes sure that you do not miss out on important deals going through, giving you a set of eyes in the field.
Benefits of Tracking Sales Meetings
Tracking sales meetings gives you the capability to understand how the sales team is performing.
Increased ROI
You can increase the ROI from sales operations by using a field sales tracking app like SalesQ. This allows you to make sure that reps are indeed working, increasing sales activities, and making sure the revenue targets of the company are being met. Reps can also report seamlessly, letting them invest more time in selling.
Customer Satisfaction
Customers are the core component of any business, as they are the sole generator of revenue. Providing superb customer service can help you make sure profits are being generated. A field sales monitoring app can make sure reps are actually meeting customers and solving problems.
Final Thoughts
Tracking meetings through a field sales app can help you track performance, make sure reps are actually working, and satisfy customers. These factors will help increase sales and help you hit your organizational profit targets while making it easier for reps to report. CloudApper SalesQ is a field sales monitoring app that can help in tracking the activities of sales reps to increase efficiency. Contact us now!