Every bank, financial institution and insurance company uses their sales force to sell their financial products. Financial representative score leads, manage them, and nurture them through forming profitable relationships to generate sales for their companies. These sales representatives must be managed, and their performance must be tracked to make sure that the sales operations are optimal and generate profits for the business.
The financial sales force management process requires pipeline management to ensure prospects are engaged on a daily basis, that sales metrics are tracked to do better than the competition, and to make sure that existing accounts are nurtured through upselling. A field sales monitoring app like CloudApper SalesQ can help in achieving all of the above and help manage a diverse financial sales force.
Ways to Successfully Manage a Financial Services Sales Force
Let's take a look at some of the ways financial representatives can be managed for optimal sales performance: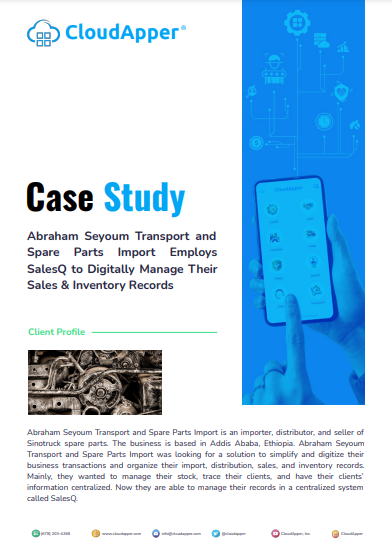 Case Study
Abraham Seyoum Transport and Spare Parts Import Employs SalesQ to Digitally Manage Their Sales & Inventory Records
Download Case Study
Teach Financial Reps to Reach the Right Audience
The key decision makers of a company should be identified before going out on client visits. This saves time by making sure that the prospect being visited is actually able to influence the organization in buying your product or services. Sales reps' visits can be tracked by SalesQ to ensure they are where they should be.
Make Sure Financial Reps Know Your USP
It is vital to make sure that financial and insurance sales agents communicate the value that your products provide. Competition is stiff, so distinguishing your offering is a surefire way to guarantee sales. SalesQ lets you align sales reps by sharing messages and training videos for strategic alignment.
Manage Customer Feedback
In selling financial products, it is a must to listen to customer feedback to provide products that suit their needs. Reps must make conversation with clients to understand their pain points and then offer solutions that are provided by your company. SalesQ lets you record customer feedback to keep tabs on customers and help provide them with the best solutions. 
Make Sure Reps Follow-Up
Once a prospect base has been established, it is essential that your financial and insurance representatives make regular follow-up visits to keep clients interested. This is an essential step in pipeline management and visit records can be accessed by managers from reps who are in the field via SalesQ. 
Keep Customer Profiles
Maintaining individual profiles on customers can help reps access essential information from the field before meetings. Analyzing what products are ordered by customers can also help financial institutions gauge credit scores to better understand which customers are potentials for upselling and which clients are more prone to default.
Provide Superior Customer Service
Selling financial products is not the final step in the customer acquisition process. Customer queries and feedback must be recorded and dealt with in a fashion that profits the business. This will generate positive word of mouth and unlock upselling possibilities.
Final Words
Managing a sales force in the field of financial associates is necessary for banks, financial institutions, and insurance firms to educate users about their products and achieve sales targets. Flawlessly executing this process is highly profitable for financial institutions. Customer satisfaction and repeat purchases can also be secured if sales operations of financial products are done right. CloudApper SalesQ is a field sales monitoring app that can help in financial representatives' alignment, order tracking, and customer feedback records. So, what are you waiting for? Contact us today!