Any given employer has several duties, with the more responsible ones focused on ensuring the protection of their most valuable assets – their employees. In the US, though, virtually every organization needs to ensure OSHA compliance that demonstrates that they have a safe workplace – this makes sense as many organizations such as construction firms and chemical plants have hazards present in the workplace. One of the most effective ways to ensure safety is by providing workplace safety training and education to the employees. Providing training and education can properly inform employees about the risks present in the workplace and how to deal with them. That being said, training isn't what it used to be back in the day – technology has rapidly changed it and made it easier than ever before.
Let's take a look at the benefits of providing workplace safety training, how organizations provide it, and some tips to optimize it in 2021.
Workplace safety training in a nutshell
It is quite self-explanatory – workplace safety training aims to provide information to employees, both new and old, about the present workplace hazards and how best to deal with them. Safety training is extremely crucial as it is the oldest and most cost-effective way to ensure or improve workplace safety.
Nowadays, providing safety training is not enough – many organizations are proactively gathering feedback from their employees so that they can improve their workplace safety policies, share best practices, and learn about addressable issues. Moreover, organizations that emphasize safety not only provide the same training once but provide refresher sessions whenever necessary, especially when policies are updated or new machinery is introduced.
Benefits of workplace safety training
Providing safety training does not have only one benefit, that is, improving workplace safety. Other common benefits of providing safety training are:
Higher employee morale and job satisfaction
Better productivity
Lower violations or fines
Better compliance with OSHA standards
Fewer medical leaves due to injuries or illnesses
Reduced workplace incidents
Less employee turnover
Improved goodwill
Is providing training as per OSHA regulations enough?
There is no concrete answer to this question – it varies from one employer to another. Moreover, safety training sessions mandated by OSHA and other regulatory agencies are the minimum requirements you need to meet. Providing such sessions does ensure OSHA compliance but does not guarantee workplace safety entirely, which is why many organizations go above and beyond to improve employee safety.
That being said, let's take a look at some tips to come up with a workplace safety training program optimized for 2021.
Optimizing safety training in 2021

Identify crucial issues that need to be addressed
Firstly, there are many types of safety training programs available from which you can create a framework for your needs in 2021. Analyze the most relevant ones to your organization, hazards present within the workplace, the goals you want to achieve, and the previous issue(s) you encountered. Identify which issues can be addressed through training and which through other means such as scaffolding, posters, PPE, warning signs/labels, etc.
Incorporate employees in the planning process
This is something that many organizations fail to do but it can be extremely effective in reducing workplace incidents. The employees are the ones who are facing the hazards or risks and have firsthand experience. They might even report hazards or risks you might not have known about – helping enhance employee safety significantly and saving you from an OSHA violation or fine!
Make training mandatory for all levels of employees
Include supervisors and managers within safety training sessions. This helps them be updated with all the recent knowledge as well as helping them identify which employees are complying with the rules and which are not.
Include safety meetings
Safety meetings are more of an informal way of talking about workplace safety, and they have their benefits. Employees can be provided with the opportunity to talk about their own experiences and what they think needs improvement. Moreover, highlighting the importance of workplace safety within these sessions helps employees perceive you as a responsible employer. That's not all, though – including a Q&A session at the end where employees can report hazards can be quite beneficial.
Provide workplace safety training continuously
Some employees might need to jog their memories regarding training sessions – ensure that you are providing them with the option to attend the training sessions again as a refresher course.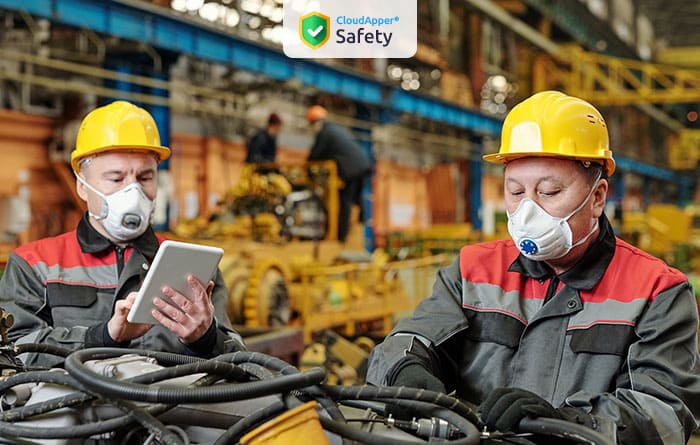 Test your employees
Attending training sessions is one thing, but applying the knowledge in the real world is an entirely different case. Test your employees by having them sit for short quizzes, having them operate machinery, or with unannounced inspections.
Continuously improve the workplace safety training program
Many organizations create a safety training program and make the mistake of never revamping it. No program is foolproof, and even the most robust ones need to be updated periodically. Ensure that you are updating your training programs as per OSHA regulations and meeting your goals to improve workplace safety effectively.
Use an OSHA recordkeeping solution
While meeting the guidelines above might seem challenging, many innovative tools simplify workplace safety compliance – one of them is CloudApper Safety. It is a robust OSHA recordkeeping software that simplifies OSHA compliance and ensures effective training management – all by using smartphones. Employees can even report incidents from their smartphones – reducing response times and improving workplace safety.
Are you ensuring workplace safety and providing training effectively to your employees?