Those who work closely with equipment and machinery know some, if not all, of the benefits of maintenance management. For instance, most know that maintenance management helps ensure that the asset runs smoothly, reduces unexpected malfunctions, and reduces safety incidents. However, there are far more maintenance management benefits, especially if it's preventative, and ensuring it with a modern CMMS takes the benefits to a whole new level. 
Having said that, let's dive deep into some of the benefits of maintenance management that are augmented using a maintenance management system like CloudApper CMMS.
The benefits of maintenance management and how a CMMS helps
It helps the equipment last longer
One of the most critical and prominent benefits of maintenance management is that it helps keep the equipment in good shape for longer – improving its lifespan. It's quite simple – preventative maintenance ensures that the machinery receives plenty of maintenance, inspections, and servicing – all of which help the equipment run smoothly and identify problems beforehand.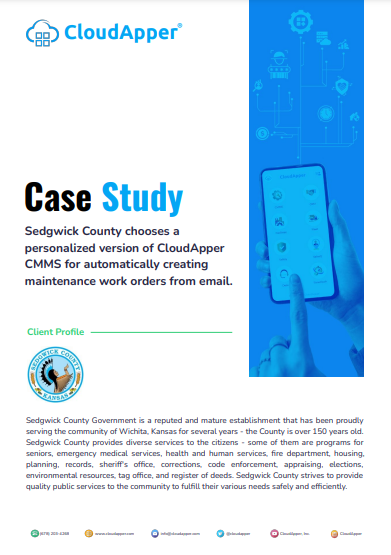 Case Study
Sedgwick County Deployed a Customized Version of CloudApper CMMS for Automatically Creating Maintenance Work Orders
Download Case Study
A maintenance management system like CloudApper CMMS helps manage all of the above easily. Maintenance managers can schedule maintenance tasks such as inspections or servicing, assign technicians, provide feedback, and monitor their activities. Via inspections, technicians can identify any problems with the equipment and work on preventing them, whereas the regular maintenance tasks provide the equipment with the care it needs.
It optimizes efficiency
Preventative maintenance helps the equipment run smoothly, reliably, and reduces breakdowns – improving overall efficiency. Without preventative maintenance tasks, the assets would face more problems and break down more often – leading to inefficient operations, bottlenecks, and production disruptions. 
Not only does a modern CMMS solution like CloudApper CMMS improve the asset's efficiency, but it also does the same with the maintenance team's efficiency. Since CloudApper CMMS can be used with smartphones and tablets, technicians can easily retrieve the asset's information such as work history, manufacturer's manual, and additional notes (everything is digitized) using barcodes. As technicians don't need to go through hundreds of papers to find the required information, CloudApper CMMS provides useful shortcuts, reduces response times, and helps technicians utilize their time efficiently.
It reduces downtime and risk of breakdowns
One of the most prominent benefits of maintenance is that it helps reduce unplanned downtime. This occurs in two ways. 
Firstly, preventative maintenance helps schedule downtime to provide crucial equipment with the maintenance it needs. For instance, a metal lathe machine might require the replacement of its driving belts, and for that, the equipment needs to be taken offline. Managers can plan these maintenance activities in a way that doesn't hamper production. For instance, the driving belts might be replaced when the machine is idle. 
Secondly, regular maintenance tasks help the machines stay in good condition, ensure that they aren't overloaded, and keep them clean and clutter-free. This allows the asset to perform reliably and reduces the risk of unexpected equipment breakdown.
A robust CMMS solution like CloudApper's can help plan, schedule, and assign all of these tasks using smartphones. Managers can assign technicians, and the latter is informed on their phones – aiding them with the necessary information and resources to carry out their tasks.
It ensures a safer workplace
This particular preventative maintenance management benefit is relatively straightforward and obvious. Malfunctioning equipment leads to problems such as breakdowns, explosions, leaks, shocking the operator, etc. – causing workplace safety incidents. As preventative maintenance works to solve problems beforehand, such issues are dealt with in due time. 
A CMMS solution helps maintenance managers carry out preventative maintenance tasks like scheduled maintenance, inspections, and emergency work orders that ensure that the assets are safe for use. Moreover, whenever machine operators identify any issues, they quickly scan the barcode on the asset using CloudApper CMMS and submit details for emergency repairs.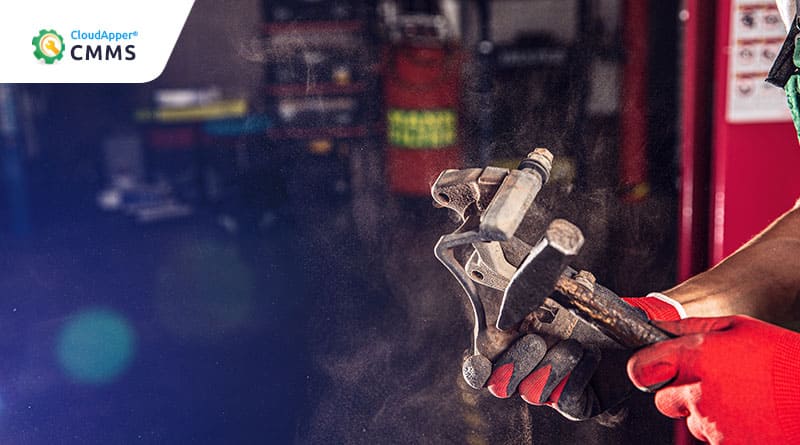 It reduces significant expenses
Another preventative maintenance benefit is that it helps allocate the budget in a meaningful way since it's planned right from the start. On the other hand, reactive maintenance focuses primarily on emergency and unplanned repairs, which can be quite expensive to the organization. It leads to more unplanned downtime and production disruptions, and urgent maintenance repairs typically cost more. Also, the spare parts might not be available when required due to supply constraints – we're still living in a pandemic. All of this leads to high maintenance, replacement, and repair costs. 
Preventative maintenance is mostly the opposite of reactive maintenance, and while the initial costs might be high with the former, the benefits are significant enough. With a modern maintenance management solution like CloudApper CMMS, maintenance managers can plan tasks thoroughly, ensure that ample spare parts are available, keep all the information in a centralized location, use smartphones for better mobility, and so much more. Not only are replacement, repair, and maintenance costs reduced, but production disruptions, bottlenecks, and safety incidents are kept at bay, too – boosting the bottom line.
CloudApper CMMS helps organizations enjoy the benefits of maintenance management
It's quite clear that CloudApper CMMS has all the bells and whistles necessary for maintenance management, such as asset management, technician management, work order management, spare parts and inventory management, vendor management, and so much more. However, CloudApper's CMMS software is entirely customizable – helping organizations modify the solution to fit their practices properly instead of changing their practices to fit inflexible solutions.
CloudApper CMMS streamlines maintenance management, simplifies repairs, and helps reduce unplanned downtime right from smartphones – all for $10/user/month. 
Contact us now and learn how the solution augments the benefits of preventative maintenance management.