Well, we've already given a few compelling reasons why you need to upgrade to a modern and robust maintenance management software (click on the aforementioned link for that). However, it's a vast topic and we didn't want to cram everything into a single post. That being said, here are 4 more reasons why you need to upgrade to a contemporary CMMS app.
More signs that show you need to update to a modern CMMS app
Before diving into that, if you haven't read the previous article on this topic, let us explain it in a nutshell.
Virtually all organizations use machinery, equipment, and critical systems that are necessary to run the business. If any of this machinery breaks down, it'll lead to unplanned downtime, halts in production, and even workplace injuries, among other things. Most organizations implement maintenance management practices that keep the machines running as expected.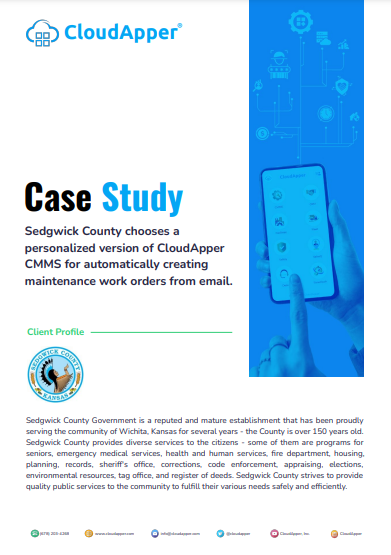 Case Study
Sedgwick County Deployed a Customized Version of CloudApper CMMS for Automatically Creating Maintenance Work Orders
Download Case Study
However, many of them are still utilizing spreadsheets, books, binders, paperwork, and reactive maintenance. Not only are these means obsolete, but can also incur more breakdowns, costs, replacements, and injuries. 
The first part of this topic highlighted 4 compelling reasons to switch to a modern CMMS app. This article is a continuation of the same topic, and without further ado, let's take a look at some additional compelling reasons to make the switch to preventive maintenance planning AND using contemporary CMMS software.
You're not able to plan, schedule, assign, and monitor tasks effectively
Maintenance managers already have a lot on their plate as they have to plan and supervise equipment maintenance, among other things. However, if the organization is still using obsolete means for maintenance management like using traditional CMMS or spreadsheets, then it'll be extremely difficult for the managers to track technician movements.
Planning, scheduling, and monitoring tasks, as well as open and pending work orders, is a nightmare in such cases, especially if it's a large team or there are several pieces of equipment. Maintenance managers will have to put in a lot of hours to track all of this – hours that they can spend doing something much more productive. 
Modern maintenance management solutions like CloudApper CMMS, on the other hand, make all of the above much easier. Maintenance managers can simply analyze, plan, and schedule tasks, assign relevant technicians, and monitor updates right from their smartphones.
With CloudApper's powerful analytics dashboard, managers can view the number of pending work requests, open work orders, critical work orders, offline assets, and much more – making monitoring their progress that much easier. 
You're not able to minimize costs with the existing practices
One of the biggest goals of effective maintenance management is to reduce costs. However, with spreadsheets and obsolete CMMS solutions, even the most talented maintenance manager cannot achieve that goal. Spreadsheets, books, and binders don't offer any insight or allow you to view what's working and what's not – you need to put in a lot of time and effort yourself to figure that out. 
A modern CMMS app, on the other hand, provides maintenance managers with in-depth information and reports that they can use to make informed decisions – reducing significant costs and time in the process. Assets with the highest unplanned downtime, the most frequently used spare parts, and more metrics can quickly identify where to make improvements. 
You're not able to use mobile devices for maintenance management
Mobile devices nowadays like smartphones and tablets are extremely powerful. They can even be used to streamline maintenance management tasks! However, if you're not able to do that with your current maintenance management system, then you're missing out on a lot.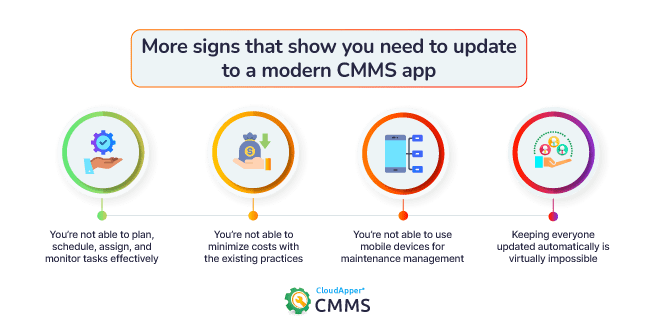 Even if it's traditional CMMS software, you can't take laptops everywhere. As a result, you'll be bogged down filling out papers for work orders and other documentation – organizing all of this is a different challenge entirely. 
CloudApper's CMMS app, on the other hand, enables maintenance management on the go. Managers can use smartphones and tablets to monitor technicians' progress, assign work orders, and even pull up work history using barcodes on the assets.
Keeping everyone updated automatically is virtually impossible 
If you're using paper-based systems, spreadsheets, or even traditional CMMS software, everyone can't be informed about the progress in real-time. For instance, Sam has performed maintenance tasks of a centrifuge and he needs to provide updates – only his supervisor knows about it and other relevant team members might not, especially if paperwork or spreadsheets are involved. This hampers collaboration and doesn't provide real-time visibility – everyone might need to be updated manually – not everyone has the time to check the binders. 
A modern CMMS solution keeps all the information in a single location – helping keep track of everyone's progress, ongoing tasks, pending ones, and more. Authorized users can simply go into the app and see what Sam has been working on, and if any feedback is required, they can provide it from the app itself, all of which is automatically updated and visible to relevant team members. This improves collaboration and keeps everyone on the same page at all times – streamlining maintenance management efforts.
CloudApper CMMS app streamlines maintenance management efforts
CloudApper CMMS is a robust, powerful, yet affordable preventive maintenance software. But that's not all. Built using CloudApper, a no-code enterprise mobile app platform, our CMMS solution is entirely customizable to meet your organization's needs. For only $10/user/month, users get access to unlimited enterprise applications – ensuring digital transformation at their facilities using smartphones! 
CloudApper CMMS is usable via smartphones, tablets, and computers – making maintenance management truly versatile. Reduce machine breakdowns, minimize unplanned downtime, and simplify asset repairs right from your smartphone – Contact us today!