If you're reading this article, you already know what a CMMS solution is. CMMS, or computerized maintenance management system, basically helps an organization's maintenance team members with their tasks, such as keeping track of inventory, improving preventative maintenance, and much, much more. While that is a very barebones definition of CMMS, modern, robust ones such as CloudApper CMMS bring a lot to the table for any given organization. Without further ado, let's look at how CMMS benefits organizations across various industries.
Top 6 CMMS benefits
Reduces machine downtime
One of the most obvious and core benefits of a robust CMMS solution is that it helps to reduce machine downtime. A robust and customizable solution like CloudApper CMMS provides users with crucial features such as maintenance scheduling, asset management, inventory management, task delegation, and more. All of this helps the maintenance team optimize preventative maintenance and reduce the chances of unplanned downtime of critical assets or pieces of equipment.
Increases the life cycle of assets
Irrespective of the industry an organization operates in, it is bound to use pieces of equipment such as laptops, desktops, alarm systems, sprinklers, etc. Large scale organizations, on the other hand, use heavy equipment, machinery, and crucial systems. Whichever the case may be, all of these pieces of equipment require a huge chunk of investment, and to ensure that the return on investment is maximized, organizations need to use these systems as long as they are operational and in satisfactory working condition.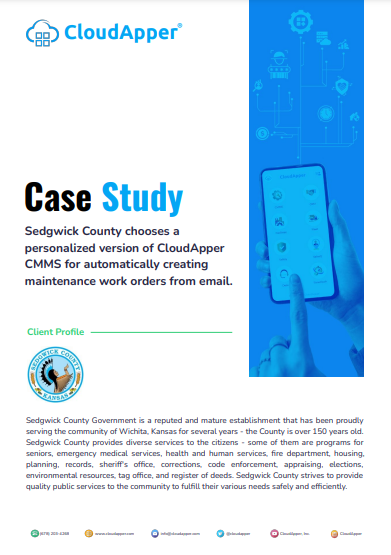 Case Study
Sedgwick County Deployed a Customized Version of CloudApper CMMS for Automatically Creating Maintenance Work Orders
Download Case Study
However, doing so depends on how you maintain the pieces of equipment. A robust CMMS solution like CloudApper's one helps extend the life cycle of your assets. Scheduling maintenance, creating work orders, storing warranty information, operation manuals, and other important documents help detect problems in advance to deal with them accordingly. All of this not only helps to squeeze the best performance out of your assets but also improves their longevity down the line.
Ensures compliance with regulatory requirements
One of the more subtle but crucial CMMS benefits is that it helps organizations comply with the rules and regulations set for their industry.
For instance, an equipment failure or malfunction can lead to workplace accidents, incidents, or near misses. Imagine if a forklift malfunctions while in use – it can be extremely dangerous for the operator as well as anyone else in the vicinity. Not only will this lead to a workplace safety incident, but it will also lead to a violation. All in all, such incidents can be extremely costly for the organization.
A reliable CMMS solution helps reduce such incidents and safety violations as it improves maintenance management and ensures that the pieces of machinery are in optimal working condition.
Keeps all the information organized in a central location
You might be wondering how keeping the information in a centralized location can be a benefit of a CMMS.
Well, maintaining critical equipment, systems, and machinery requires a lot of effort, documentation, work orders, invoices, and so on. If an organization does all of these things manually it would be an administrative nightmare. Imagine tracking maintenance upgrades or work orders and retrieving the accurate documentation from a cabinet full of a thousand files!
A robust solution like CloudApper's CMMS benefits organizations by not only digitizing everything, making it paperless in the process but also keeping everything in a centralized location. Scheduling maintenance, tracking work orders, retrieving work history, and every other piece of documentation can be done easily in a few taps, reducing the burden on the maintenance staff members and also speeding up the tasks significantly.
Improves operational efficiency
One of the more popular CMMS benefits is how a solution can improve efficiency across the board. As a CMMS solution helps reduce machine downtime, it reduces unwanted interruptions and ensures that productivity is at optimal levels – improving operational efficiency in the process.
Reduces costs and improves the bottom line
Now, this one might be one of the most sought-after CMMS benefits. A robust CMMS solution helps reduce wastage, safety incidents, streamline equipment and asset maintenance, simplify work orders, improve the performance of machinery, monitor ongoing activities, and more. All of this together reduces significant costs and boosts the bottom line of any organization.
CloudApper CMMS ticks all the right boxes
CloudApper CMMS is a robust, customizable, and flexible CMMS software that is perfect for you. Built with CloudApper, a no-code app development platform, CMMS helps you simplify asset repairs, optimize preventative maintenance, and monitor ongoing maintenance activities – right from your smartphone!
CloudApper CMMS can be customized based on your needs with its easy-to-use drag and drop editor. Add useful modules or remove the ones you don't need – even without any coding skills!
Interested in CloudApper CMMS? Contact us now and transform maintenance management with CloudApper CMMS!