Companies spend millions of dollars on physical assets. To improve uptime and prevent rising costs, it is crucial to track a variety of information to ensure asset maintenance and repairs are done on time. CloudApper CMMS, which offers great mobile functionality, can help companies streamline their asset repair and maintenance management with multiple additional benefits.
CloudApper CMMS allows companies to manage all aspects of asset repair and maintenance in one place, including preventative maintenance scheduling, prioritizing work orders, assigning the right technician, training workers on repairs and proper protocols, analyzing costs associated with uptime and downtime, and more.
Let's take a look at the uses and benefits of CloudApper's mobile CMMS app for both asset repair and maintenance in detail.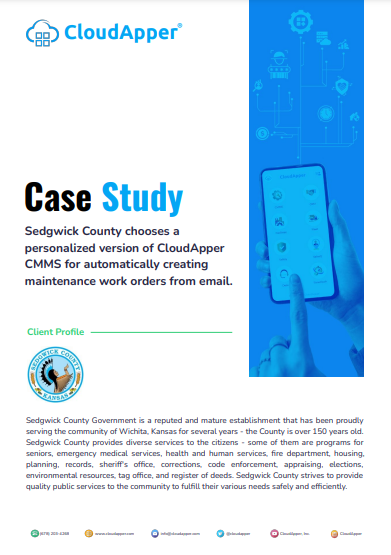 Case Study
Sedgwick County Deployed a Customized Version of CloudApper CMMS for Automatically Creating Maintenance Work Orders
Download Case Study
Preventative maintenance scheduling
Preventative maintenance is a proactive approach to maintenance management that involves routine and regular maintenance of equipment in order to reduce the likelihood of breakdowns which lead to unplanned downtime.
With CloudApper's mobile CMMS app, maintenance managers can schedule cleaning, repairs, adjustments, and/or parts replacements from a smartphone in order to increase the availability and operational output of equipment and machinery.
Work order prioritization
Maintenance managers know not all work orders are created equally. Maintenance requests come in all shapes and sizes and the act of determining which order needs to be completed first is the essence of work order prioritization.
It means that the maintenance teams do the work according to how vital it is to the continuity of operations and the success of the business. CloudApper's CMMS allows users to choose priority levels for each maintenance request. Maintenance technicians can just log into the app on their mobile device and start working in the order of selected priority of maintenance work requests.
Assigning technicians
Maintenance work requests must be assigned to technicians based on their skills and availability. Not all technicians will have the same knowledge, as some will have particular expertise in handling specific equipment. It is essential the right technicians are assigned to the right tasks as this will save companies a lot of time and resources. CloudApper CMMS allow managers to assign work orders to specific technicians at their fingertips.
Maintenance knowledge base
The CloudApper CMMS app includes a knowledge base module in which users can access useful information related to asset repair, maintenance, and procedures to prevent unwanted incidents all from their mobile devices. The app also supports video.
Tracking downtime
The CloudApper CMMS mobile app enables users to log information when equipment is unavailable and why it is unavailable. Being able to review equipment downtime information helps managers identify potential problems that need to be addressed to reduce future downtime. For example, if a machine breaks down and requires maintenance too frequently, it is a sign that there is something wrong with the machines that need to be addressed as soon as possible.
The #1 mobile app CMMS for maintenance management
To experience the benefits of our mobile app CMMS, start using the free trial version now. CloudApper CMMS software will help you streamline asset repair and maintenance management with more mobility and flexibility.