What Is Facility Maintenance? 
Facility maintenance encompasses improving the utility of a building by regularly servicing capital assets, such as machinery and equipment, commercial appliances like HVAC units and boilers, and areas in or around a building, such as parking lots and hallways. Simply put, it involves installing, inspecting, routine upkeep, and the repair of machines and equipment. Today, facility maintenance can be managed via computerized systems or software, such as CloudApper's Facilities or CMMS, enabling managers to streamline their tasks effortlessly.
However, there is a significant difference to be noted. Often, people confuse facility maintenance with industrial or property maintenance. But they are not considered the same practice, at least not in the United States of America.
Facility maintenance relates to maintenance in commercial buildings where no manufacturing activities are taking place. Maintenance involving manufacturing plants is called industrial maintenance, and property maintenance is related to residential buildings. For example, facility maintenance will focus on places like office buildings, universities, convention centers, and hospitals. 
And the purpose of facility maintenance software is to automate processes to enable facility managers to implement comprehensive maintenance management activities. 
Types of Facility Maintenance Workers
There are two types of facility maintenance workers: facility managers and maintenance technicians. Facility managers are ultimately responsible for overseeing and ensuring all maintenance work is performed, including janitorial services and more. Conversely, maintenance technicians oversee several hands-on tasks, which may include building walkthroughs, preventive maintenance, corrective maintenance, and repairs. These technicians are skilled in installing, inspecting, repairing, and replacing equipment, and their work is typically scheduled. 
These scheduled and preventative maintenance tasks are usually assigned via facility maintenance management software unless the organization is still using outdated or manual systems. 
The Responsibilities of Facility Managers
The responsibilities of facility managers typically fall into one or more of the following categories:
EHS – Environment, Health, and Safety
The facility maintenance and management department must identify, evaluate, and manage both environmental and safety-related challenges. Failure to enforce proper safety standards and operating procedures could result in injuries and lawsuits caused by poor facility conditions and working environment. 
Fire Safety
The scope of facility management even extends to taking precautions to prevent building fires since they pose the highest risk to building occupants, assets, and businesses. For example, this can be streamlined via facility maintenance software where the manager could assign maintenance tasks to technicians and keep records of inspections in the system.
Preventative Maintenance
One of the main purposes of facility maintenance software is to help managers streamline preventative maintenance tasks. Periodic inspections can maximize equipment asset utility and life cycles, reduce the risk of downtime, and comply with statutory obligations. Many progressive facility management teams use a Computerized Maintenance Management System (CMMS) or Computer-Aided Facility Management (CAFM) systems to track and schedule recurring work orders. 
Hygiene
Sanitation and cleanliness have never been more vital, even more so during the COVID-19 pandemic. Cleaning operations include sanitizing washrooms, refilling supplies, vacuuming, sweeping, mopping, and wiping down common areas and frequently used surfaces, and more. Cleaning may be done on a daily, weekly, or monthly basis. 
Functional Tasks
Facility managers are responsible for keeping buildings up and running. That means being available to troubleshoot occupant issues in a facility as they arise. Facility managers may be met with requests to handle noise complaints, change light bulbs, or fix complex machinery that affects employee's productivity. 
Space Management
Any facility layout may be subject to changes, depending on the organizational structure, growth, human resources decisions, and business strategies. Or perhaps a space for holding an event or a conference may be suddenly required. The facility manager's job is to make good use of available spaces. Facility managers are also responsible for meeting various rules and regulations related to office layouts that often dictate fire safety arrangements, the minimum amount of space necessary per staff member, proper ventilation, temperature control, and so on. 
Types of Buildings That Can Utilize Facility Maintenance Software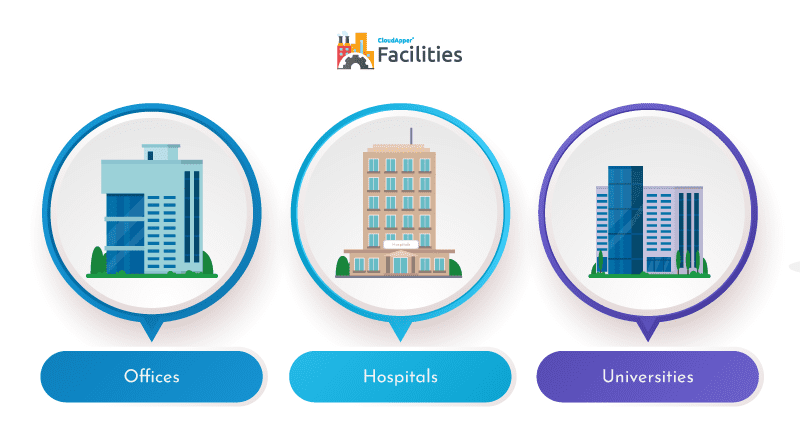 Offices
Large commercial buildings like warehouses have HVAC units and boilers that require scheduled maintenance. Proper maintenance of equipment reduces the likelihood of failures and breakdowns and ensures building occupants are in a safe working environment 24/7. Don't forget to include elevator servicing and keeping parking lots and hallways safe.
Hospitals
Hospital facilities are required to follow strict sanitation and safety standards protocols, such as OSHA. Maintenance on these types of facilities is required for compliance as well as performing preventative maintenance on fixed capital assets like imaging equipment. 
Universities
Schools, colleges, and universities may each have multiple facilities that become difficult to maintain without a robust modern system. These institutions hold a variety of capital assets, for example, research equipment. Facility management teams need to maintain the condition as well as manage the entire lifecycle of these assets. Facility maintenance in these institutions may include replacing lights and ballasts, checking HVAC, and flood or leak emergency repairs. 
CloudApper Has the Best Facility Maintenance Software
As people are becoming more mobile-centric, we at CloudApper have developed software to streamline facility maintenance tasks via mobile devices. CloudApper's CMMS software or the Facilities enables maintenance technicians and administrators to perform maintenance tasks on the go, receive notification alerts instantly, and get a bird's eye view of the entire maintenance operations currently happening at multiple locations. 
CloudApper's facility maintenance software is a cloud-based solution that is 100% customizable. We invite you to contact us at CloudApper to learn more about how we can help your business thrive!